The Meaning Behind the Family Feud Episode in 'Voltron' Season 7
The best filler episode of 'Voltron Legendary Defender,' explained by the series' showrunners.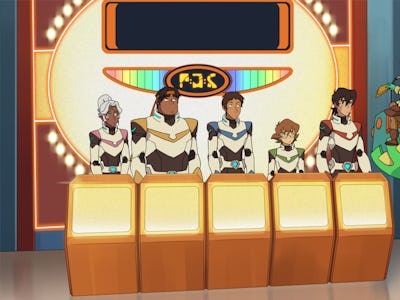 Netflix
The galaxy may be in danger, but in Season 7 of Voltron Legendary Defender on Netflix, there's time for some harmless, game show fun.
It's no secret that in the new season of Voltron, the Paladins take a break from being defenders of the universe to participate in what is basically an alien version of Family Feud. Much like the Dungeons & Dragons-themed episode "Monsters & Mana" from Season 6, or "Space Mall" from Season 2, the heroes of Voltron are challenged in a way that doesn't necessitate jumping into a mechanical lion that goes pew pew pew.
In an interview with Inverse, series showrunners Joaquim Dos Santos and Lauren Montgomery explain that the episode, which is meant to break up the bleak tone of the penultimate season, doesn't really reveal anything insightful about characters, like "Monsters & Mana" did.
"It's really just a fun romp," Montgomery says.
In "The Feud!", the Paladins of Voltron find themselves on a game show pitted against their sworn enemies in the Galra Empire. The game show follows a structure like Family Feud but takes elements from other daytime game shows like Password, Celebrity Name Game, Win, Lose, or Draw, and even the minigolf challenge from The Price Is Right.
"The set is very Family Feud because Voltron is a family," Montgomery says, "and they're basically going up against the Zarkon family."
Dos Santos said that his love affair with game shows began when he used to play hooky and stay home from school to watch TV. Montgomery, however, was a bit more obsessive during her undergrad years at Loyola Marymount University, which consisted of binge-watching daytime TV.
"I had a love affair with game shows," Montgomery says. "When I went to college and had time to kill in between classes, we had the Game Show Network."
The soon-to-be producer's afternoons consisted of back-to-back episodes of the classics, like Family Feud, $10,000 Pyramid, and Wheel of Fortune. "I would just watch it straight through, get super creeped out by Richard Dawson trying to kiss all the ladies, but fully enjoying the game show. It was a lot of fun."
And that's the key to this episode of Voltron: Fun! Because in the penultimate season of the reboot series, the Paladins journey back to Earth in order to prepare the Galaxy Garrison for Sendak and his Galra army. There's not a lot of room for fun anymore, so the team — both the Paladins and the creators behind the scenes — will take it where they can.
"What's fun is we get to see Keith in a more lighthearted situation," Dos Santos says. "It's not super dramatic for him. It's just fun. I think this one was just fun for us."
Voltron Legendary Defender Season 7 will premiere August 10 on Netflix.