FX Chief Blames Marvel for Canceling Donald Glover's Animated 'Deadpool'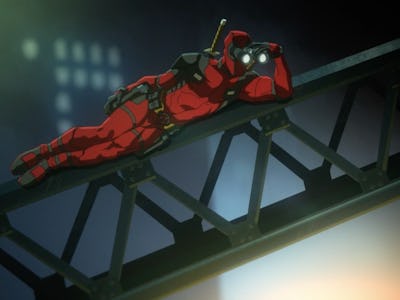 Titmouse Animation
Before he won awards with his show Atlanta, topping the charts with his song "This is America," and playing Lando Calrissian in Solo: A Star Wars Story, Donald Glover worked on an animated Deadpool series. However, in March, news came out that the show would not see the light of day. FX Networks was the first to be blamed, but now the network boss points fingers elsewhere.
When asked about a possible revival of the Deadpool series at the Television Critics Association summer press tour on Friday, FX CEO John Landgraf to Variety it wasn't his network's decision to not pursue the show with Glover and his brother Stephen.
"I think that Marvel will revive it, because they have the rights," Landgraf said. "When Marvel decided not to do that show, we parted company with them as did Donald and Stephen. Now it's totally up to them [Marvel] whether they hire someone else to do a different show."
An interesting point here is how this clears up the notion of who has the rights to certain Marvel characters. There was an assumption that since 21st Century Fox owned the X-Men movie rights, including Deadpool, then it would have the rights for the animated version, hence the reason FX would be the place to show the series. It also is a moot point now that Disney is in the process of purchasing the bulk of 21st Century Fox.
Back in March, FX made the announcement about the Deadpool series cancellation citing "creative differences" between themselves, Marvel, and the Glover brothers. There was a rumor suggesting Donald Glover was too busy to work on the show, but he shot down notion on Twitter and even shared a script for the show. In an interview, Stephen Glover said the show would "give Rick and Morty a run for their money."
So far, Marvel has not announced plans for a Deadpool series.
Something that is being worked on is an R-rated Home Alone called Stoned Alone, produced by Deadpool himself, Ryan Reynolds.