'Deadpool' Series From Donald Glover Would've Been Like 'Rick and Morty'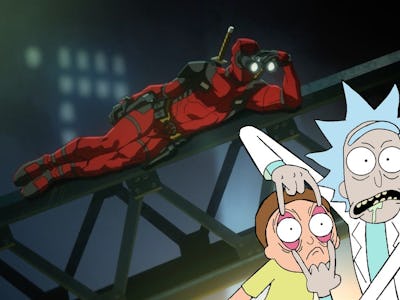 Titmouse Animation / Adult Swim
Donald Glover's canceled Deadpool animated series continues to drive fans a bit wild, and now comparisons emerged from the show's creators that they "wanted to give Rick and Morty a run for their money." After Donald Glover shared a script from the show last Wednesday in which Deadpool himself wondered if the show was cancelled for being "too black," Donald's brother Stephen made the comparison to Rick and Morty.
"Our show wasn't too black," Stephen Glover wrote in the since-deleted tweet. "It wasn't really that black at all. But we definitely wanted to give 'Rick and Morty' a run for their money and I think we would have. Proud of the gang." What Glover probably meant was that their Deadpool show could have been a deeply irreverent and totally offensive animated series that perfectly balances low-brow humor with utter brilliance, much like Dan Harmon and Justin Roiland's Rick and Morty. But that's just speculation. Maybe the Deadpool animated series would've felt a lot like that hyper-violent "Pickle Rick" episode of Rick and Morty.
Stephen Glover also wrote in another deleted tweet: "There really was a Taylor Swift episode. It was HILARIOUS. And it definitely was the last straw lol." Animated series like Neo Yokio can get away with mocking Taylor Swift through the use of a thinly-veiled fake moniker, but knowing the nature of Deadpool's brand of humor, they probably had an entire episode dedicated to saying deeply offensive things about the pop star. Could it have been amazing and hilarious? Definitely. Would Taylor Swift have gone after FX for broadcasting it? Possibly.
The point here is that the Deadpool character has a very specific kind of brand that's highly offensive in many ways. The live-action Deadpool movies have proven successful at the box office, but a lower-profile animated series could be just offensive enough that it would seem like a liability to FX. After all, the official word is that they cited "creative differences" as the reason for the project getting dissolved.
We might never know what could've happened with Donald Glover's Deadpool animated series, but if they aspired it to take on Rick and Morty-tier storytelling quality, then their ambitious series might's been something great. As it stands right now, it'll never happen.
It would've been nice to have the series on the horizon, especially with Rick and Morty Season 4 caught in the limbo of contract negotiations. At least we have Deadpool 2 coming in May.