Deadpool Is Rebooting 'Home Alone' As a Christmas Stoner Comedy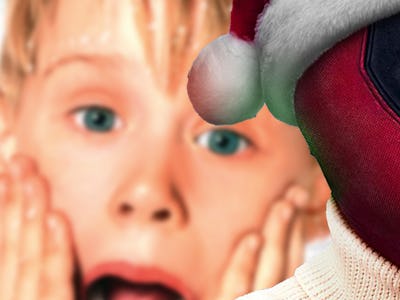 20th Century Fox
Welcome time travelers from the past to 2018. Donald Trump has been United States President for a year and a half, and Ryan Reynolds is rebooting Home Alone as an R-rated stoner comedy.
On Thursday, Deadline reported that the Deadpool star is producing an honest to God, R-rated reboot of the 1990 John Hughes classic Home Alone. Titled Stoned Alone, the film will be directed by Augustine Frizzell, an actress and director whose latest film Never Goin' Back will be released on August 3 by powerhouse indie studio A24.
In Stoned Alone, Deadline reports, the film follows "a twenty-something weed growing loser" who misses the plane on a family holiday ski trip. Opting to get high instead of catching the next flight, the twenty-something begins feeling serious paranoia that thieves have broken into the house. Turns out, thieves have actually broken into the house. High on both adrenaline and dank kush, the stoner seeks to become a household hero.
There are no actors attached for the reboot film. However, original star Macaulay Culkin, who is 37 years old and founded a pizza-themed punk rock band Pizza Underground, would be a very logical choice.
Aside from the fact that Stoned Alone reinterprets a generational family Christmas classic into a raunchy R-rated comedy, Stoned Alone joins the slow-burning genre of adult Christmas comedies.
In the '80s and '90s, Christmas movies looked like National Lampoon's Christmas Vacation (1989), The Ref (1994), The Santa Clause (1994), and of course, the Home Alone series. Even if the movies were funny, the holidays were still a time for families and sentimentality.
By the mid-2000s, things got a tad spicier, with Will Ferrell's Elf (2003), Bad Santa (2003), and the deeply problematic anthology rom-com Love Actually (2003). But then out of nowhere, there was 2011's A Very Harold & Kumar Christmas, 2015's The Night Before, and 2016's Office Christmas Party. Maybe the holidays are a time to burn up after all.
There is no release date yet for Stoned Alone.