Twitter Roasting Rudy Giuliani's "You" Is a Spotify Playlist That Slaps
It's the most ambitious crossover in pop music history. Kind of.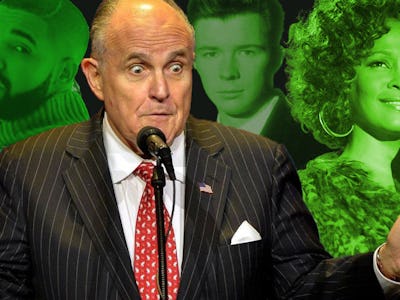 Imgur, Grammys, RCA, Hasbro, YouTube.com/Drake
In case you didn't catch it over the weekend, former New York City mayor and current lawyer to U.S. President Donald Trump, Rudy Giuliani, sent out a mysterious message that read only "You" on his verified Twitter account.
There wasn't even a period in the tweet. Just, "You," floating in the ether.
Since it was published on Sunday morning, at 8:07 a.m. Eastern, Giuliani's tweet has earned a crazy ratio, collecting over 20,000 "Likes," nearly eight thousand retweets, but 22,000 direct replies. Naturally, Twitter users riffed on the tweet, mostly with music lyrics that predominantly feature the word "you." There were many songs to choose from.
In fact, a quote-tweet from rapper Soulja Boy, in which he memes himself and references his 2007 pop classic "Crank That (Soulja Boy)," vastly outperformed Giuliani's original tweet; Soulja Boy's tweet has a staggering 298,000 "Likes" and over 85,000 retweets (and only 702 replies, strangely).
But as it turns out, the flood of pop music that maybe dominated your feed makes for a rather eclectic playlist. On Monday morning, the Inverse staff collected all the best tweets and curated a Spotify playlist from them (plus a dozen more we thought were too good to exclude).
While the most common tweets referenced ubiquitous classics, like "You Are So Beautiful" by Billy Preston (later covered by Joe Cocker) and "You Are My Sunshine" by virtually anyone who's ever had a recording career, there were also tweets to recent songs like Drake's "Hotline Bling" ("Ever since I left the city…") and Ed Sheeran's "Shape of You," which proves you really don't have to be that creative on Twitter.
Despite the polarizing moods and sounds of all the songs, to our surprise, the playlist slaps pretty damn hard. There's something for for everyone, from ABBA to Debby Boone, from Michael Jackson to No Doubt, from the Transformers soundtrack to Mulan.
But why was music the most prevalent thing Twitter roasted Giuliani with? It's quite simple: There are just so many pop songs with "You."
There's also a storied history with memes that riff on popular music. A big example is the Dancing Pumpkin Man, an early viral hit on YouTube in which a comedian — dressed in a black unitard and a cheap pumpkin mask — danced to Halloween music for a Nebraska news station.
More recently, the horror film It inspired the Twitter account @Pennywise_Dance, in which video remixes depict the demonic clown getting down to songs like PSY's "Gangnam Style" and A-ha's "Take On Me."
Giuliani's "You" isn't reinventing the wheel here, it's just a different wheel.
So what made the playlist? Well, for starters, there's Aretha Franklin…
…Biz Markie…
…Whitney Houston…
…Debby Boone…
…and Dirty Dancing, Human League, Rick Astley, Taylor Swift…
…and a lot of Drake.
Check out the playlist below, just for you.