Netflix's 'Altered Carbon' Season 2 Adds 'Avengers' Star Anthony Mackie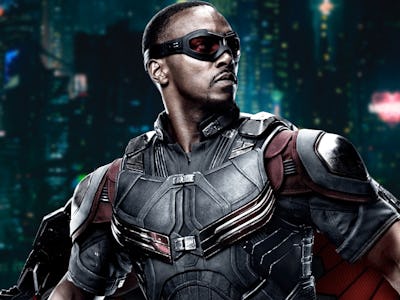 Netflix, Marvel Entertainment
The journey of Takeshi Kovacs continues, and this time, he'll be inside the body of an Avenger.
Netflix officially announced the second season renewal of its sci-fi thriller Altered Carbon on Friday. But replacing Joel Kinnaman, who starred in the show's first season, will be Marvel film star Anthony Mackie, whom Netflix confirms will play the new physical body of Takeshi Kovacs.
Netflix did not announce a premiere date for the new season.
In the futuristic world of Altered Carbon, a dystopian cyberpunk series based on Richard K. Morgan's 2002 novel of the same name, a person's memories can be stored on discs, called "cortial stacks," which can be implanted in the vertebrae of a "sleeve," or synthetic human bodies. And because of the high cost, only the rich can afford to be transplanted into new bodies on a regular basis.
In the series, Takeshi Kovacs is a mercenary and the sole surviving member of a rebel group who was squashed in an uprising. Awakened after 250 years in storage, Takeshi's stack is placed into a new body and is ordered by a wealthy individual, Laurens Bancroft (James Purefoy) to solve a murder: His own.
In the first season alone, several other actors played different versions of Takeshi Kovacs at different times, including Wil Yun Lee and Byron Mann (Skyscraper). Kinnaman starred as the most "current" Takeshi Kovacs, but now the House of Cards and Suicide Squad star is stepping aside for Mackie, whose Sam Wilson/Falcon was wiped out in Avengers: Infinity War.
In addition to the Marvel franchise, Mackie is also known from his roles in films like 2003's 8 Mile, in 2008's The Hurt Locker, as Tupac Shakur in 2009's Notorious, and as Martin Luther King Jr. in the HBO adaptation of All the Way (which he also reprised from his off-Broadway performance).
There is no release date yet for Altered Carbon Season 2.