Sean Spicer Gets Called the Internet's Favorite Insult in Viral Twitter Video
"You lied as press secretary, now you're lying in your book."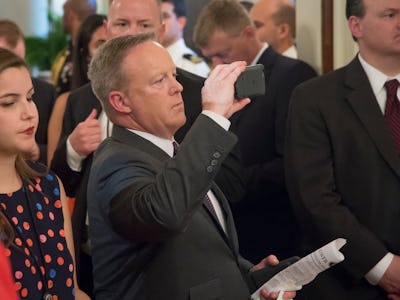 Flickr / USDAgov
You may or may not have heard that former White House Press Secretary Sean Spicer had a book signing in New York City on Wednesday. He was there to promote his new book that was released the day before, and his appearance is getting quite a bit of attention on the internet, thanks to a protestor who called Spicer the internet's favorite insult:
"You're a garbage person"
A now-viral video in a tweet posted Wednesday shows a man who quietly sat in the audience at the book signing while Spicer spoke…until he apparently decided he wasn't going to be so quiet anymore.
As internet videos go, it's excellent. There's a great line of sight, good lighting, and sound quality. It's a gem, and it was sent to Aaron Rupar, a journalist at progressive news website Think Progress.
In the video, while Spicer is being interviewed at the front of the room at a Barnes & Noble, a man suddenly stands up and yells out, "Hey Sean, you're a real piece of garbage and I hope you look around and you see all these empty seats." He goes on to say, "And you realize even in New York City, people will not come and pay money to hear you speak."
As people react with shock around the man, who filmed the whole thing, he continues on even as he's ushered out, and says:
I've read the reviews — it's a garbage book, and you're a garbage person.
And even if the crowd around him at the event booed him, the mystery man who heckled Spicer received a lot of love on the internet.
"Garbage person" is almost definitely one of the internet's favorite insults. But one of the earliest mentions of the use of the term on record is from offline.
In the testimony of Charles Manson during his trial in 1970, he used the term to describe himself, and said, "As we have tin cans and garbage alongside the road, and oil slicks in your water, so you have people, and I am one of your garbage people," according to Atlas Obscura.
But the term has really taken off on the internet. In fact, this isn't even the first time Spicer was called a garbage person in a viral tweet in the past few weeks; actor Zach Braff called him one in a popular tweet on July 19.
Even as the guy who called Spicer a garbage person was leaving, he managed to get in one last jab at the former Trump administration employee when he called out, "You lied as press secretary, now you're lying in your book."
It's probably safe to say that being called a garbage person is not going to be high on Spicer's list of accomplishments on his book tour, but it will likely end up pretty high on the list of things the internet will remember about him.