The 50 Best Sean Spicer Memes
These aren't jokes. They're alternative praise.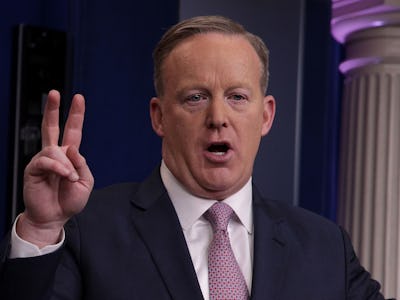 Getty Images / Alex Wong
President Donald Trump's White House press secretary, Sean Spicer, is already making a name for himself in the administration: by telling bald-faced lies to the American people. Spicer claimed, regarding President Trump's spat with the media (and reality) over the size of his inauguration crowd, that "this was the largest audience to ever witness an inauguration, period." Kellyanne Conway, a senior adviser to Trump, later defended Spicer's comments, saying that he was pulling his information from "alternative facts."
People of the internet have had a field day with Spicer's ridiculousness, with some people plotting to send him Dippin' Dots, the company he has waged war with on Twitter for the past five years. Since the press conference, Spicer has spawned several hashtags including #SeanSpicerSays, #SeanSpicerFacts, and #SpicerFacts — and legions of memes.
Here are some of the best:
50. Luke Skywalker might have some strong words about this.
49. The picture is misleading, that's all.
48. Official Trump administration stance on Friends.
47. He has a lot of thoughts about Star Wars.
46. Not cool, Obi-Wan.
45. Go to the tapes.
44. Not true, period.
43. Leo begs to differ.
42. And the Soviet Union never collapsed.
41. Is it, though?
40. It's called doublethink.
39. Just like how Trump has an 85 percent approval rating.
38. Worse than the prequels.
37. There was a stampede — a stampede in the gorge.
36. The stormtroopers were probably forced to come, too.
35. He's an alternative parent.
34. Maybe in its investors' dreams.
33. Shoutout to all the Kelly Rowland fans.
32. If only.
31. The only one those glasses are fooling.
30. Perhaps you mean Al Gore.
29. Debunking history's biggest lies.
28. Maybe it's just his favorite number.
27. Not a fan of The Eagles, clearly.
26. Overrated.
25. Sounds legit.
24. 3 Doors Down is first on nobody's list.
23. It's like he's making it up as he goes along.
22. Wrong! Sad!
21. No.
20. Not so sure about that.
19. Maybe if it stood for Ego, Gaudy, Ostentatious, Tasteless.
18. More tests are required.
17. Standing atop a tower of lies.
16. Here's where he crossed the line.
15. The next step in rolling back science.
14. Kevin Spacey wants his role back.
13. Hitting where it hurts.
12. A little late for that.
11. Probably Judas.
9. And the bread is delicious.
8. Spicer, you're fired.
7. They never let him write songs or play music or be in pictures.
6. Swing and a miss.
5. There's nothing natural about Cheeto.
4. Just trying to ruin everything, at this point.
3. He never got around to finishing the movie.
2. Make American invisible again?
1. Boo, you whore.