How Charles Manson Died, Leader of Murder Cult
Manson was serving a prison sentence for his role in seven murders.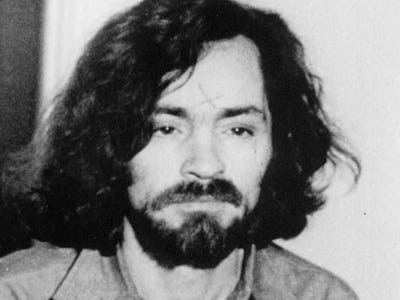 California Department of Corrections and Rehabilitation
Charles Mason, the man behind the horrific 1960s murders in Los Angeles that stunned a nation, died on Sunday at a Kern County hospital in California. He was 83 and had been in prison for 46 years.
Manson ordered his followers to carry out a series of killings over two nights, which left seven dead, including actor Sharon Tate. Manson, who controlled his cult through a mixture of psychology and drugs, went on trial in June 1970 alongside Susan Atkins, Patricia Krenwinkel and Leslie Van Houten.
The California Department of Corrections & Rehabilitation announced early Monday morning that Manson died of natural causes while he was away from the Protective Housing Unit at California State Prison-Corcoran, where he had been serving out his life sentence since 1989.
Reports of Manson's ill health had circulated for a while. Back in January TMZ reported that he was meant to have surgery at a Bakersfield hospital, due to a lesion in his intestines that was causing significant bleeding. However, doctors later decided that the procedure could prove life-threatening due to his weak state.
Manson was charged on April 22, 1971 for seven murders relating to the August 1969 deaths of Abigail Ann Folger, Wojciech Frykowski, Steven Earl Parent, Sharon Tate Polanski who was eight months pregnant, Jay Sebring, Leno La Bianca and Rosemary La Bianca.
He was sentenced to the death penalty, but his sentences were commuted to life in prison after a 1972 court case that abolished the penalty in the state of California. Manson's last parole hearing was in March 1997, and his next was due in 2027.
Watch Charles Manson speak here:
One of his followers, Leslie Van Houten, was found suitable for parole in September, after 46 years in prison and 21 prior appearances before the parole board. The deputy commissioner in Van Houten's 2016 parole hearing described how Manson brainwashed her into following his commands.
"It's very clear that [Manson] was a mastermind at mind control at every move," he told Van Houten on record, "and within those few months […] you were under his control."
Manson and his cult lived out on a ranch, where he provided sermons, orgies and LSD. Based on what he believed were hidden messages in The Beatles' White Album, Manson told his followers that a race war was coming.
"They worshipped Charlie like a god," Barbara Hoyt, a member of the Manson Family, told CNN.
TMZ reports that the prison is now contacting the families of the victims to tell them about Manson's death.