Why Charles Manson's 'Brainwashed' Golden Girl Probably Won't Go Free
Leslie Van Houten's journey out of the most infamous American cult in history has been long, cruel, and fascinating.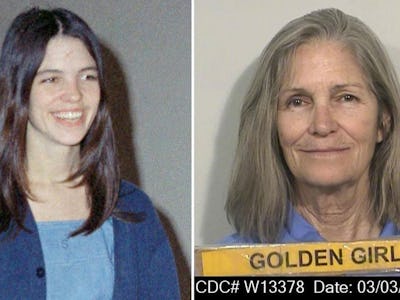 ABC News
Leslie Van Houten was finally found suitable for parole on Thursday, after 46 years in prison and 21 appearances before California's Board of Parole Hearings. But if recent history is any indication, this participant in one of the most shocking crimes in American history likely won't go free.
By many accounts, Van Houten was brainwashed by Charles Manson from the time she met him as a teenager in August 1968. Her supporters say the 19-year-old was beaten down with huge doses of LSD until she lost all sense of reality; she describes her experience the same way. They also argue her role in the string of killings colloquially called "the Manson murders" is overshadowed by her victimhood. Meanwhile, the families of victims want to see Van Houten spend the rest of her life behind bars.
Van Houten's fate, which will be ultimately decided by California Governor Jerry Brown, is likely to fire up raging controversy in the coming weeks, regardless of whether she gets to see the light of day. Last year, Brown went against state recommendation for her to be paroled.
In a phone conversation with Inverse, a representative from California's Board of Parole Hearings who preferred to remain anonymous confirmed that Van Houten's rehabilitation has been completed to a degree the board finds suitable.
"The hearing is comprehensive, analyzing the facts of the case and the inmate's comportment…what they've done to try and get themselves ready for life on the outside, and how rehabilitated they might be," a board spokesperson tells Inverse. At Van Houten's 2016 parole board hearing, the district attorney said, "the People of the State of California believe that the suitability factors are far, far, far outweighed by the unsuitability factors here." Agreeing that Van Houten had demonstrated being rehabilitated by her four decades in prison, the deputy commissioner added, "You answered every question that I needed to know to feel safe in my heart and my intellect that you are ready and you are safe to be released. And I think you have tremendous insight, and if you are not rehabilitated, I don't know who is."
A blog post published on Thursday on LeslieVanHouten.com, a site for Van Houten's supporters, reads, "the panel commended Leslie for numerous factors detailed as, defined by law, 'overwhelming' evidence of suitability." Though the board representative did not use those exact terms in speaking with Inverse, he repeated several times that Van Houten had been found suitable for parole, as she was in 2016. In fact, at the board hearing in 2016, the deputy commissioner told Van Houten that her case had single-handedly changed his mind on the subject of mind control. "It's very clear that [Manson] was a mastermind at mind control at every move," he told Van Houten on record, "and within those few months […] you were under his control."
According to California law, Brown now has 150 days to decide on the board's recommendation. (He could reject, modify, or accept it.) When the Board of Parole Hearings recommended Van Houten suitable for parole in 2016, Brown rejected the decision. He now has until February 4, 2018 to respond to again.
"The governor can only reverse the board's decision in a murder case with an indeterminate sentence," said the board representative, who asked to remain anonymous.
In their 1994 award-winning book, Helter Skelter, Vincent Bugliosi and Curt Gentry describe how Van Houten broke into a California home on August 9, 1969, with members of a cult that had completely absorbed her identity. As the parole board in California has now decreed twice, Van Houten showed no predisposition for violence before meeting Charles Manson, and has not committed an act of violence in the near 50 years since she was imprisoned.
According to Van Houten and her attorneys, she had consistently been high on LSD for months before her crime, and was so deeply ingrained into Manson's cult that she no longer believed she was an autonomous person. Court documents and eyewitness testimony confirm that Van Houten held a woman named Rosemary LaBianca down on a bed while another member of the so-called "Manson family," Tex Watson, stabbed LaBianca to death. Because Charles Manson had instructed Watson to ensure every single member of the cult had a hand in the murder, Watson told the court he handed Van Houten a knife and said, "Do something."
What Van Houten did in that moment would change her life irrevocably. Believing that Charles Manson was a deity who had saved her, and believing that her actions would help let loose a race war and bring on the apocalypse, Van Houten stabbed Rosemary LaBianca, whom court records later reasoned was probably already dead. She stabbed LaBianca's body around 17 times.
When Van Houten was arrested and paraded into court with Manson's other young, female followers, reporters called the teenager Manson's "Golden Girl". She was easily the most beautiful of the group the press deemed the Manson Girls, grinning through her trial and shouting out of turn to defend Manson, all the while sporting a swastika she had carved into her own forehead. On March 29, 1971, Van Houten was convicted of first-degree murder and was the youngest woman in California's history to be sentenced to death.
Van Houten's most famous ally for decades has been John Waters, the alt filmmaker and essayist. When Waters was assigned a story on Charles Manson at Rolling Stone, he opted instead to reach out to Manson's girls, including Van Houten. Though Van Houten said she didn't want to be in Rolling Stone, the two began a correspondence that blossomed into a friendship. For HuffPo in a series of essays on Van Houten, he wrote:
Leslie Van Houten always seemed the one that could have somehow ended up making movies with us instead of running with the killer dune-buggy crowd. She was pretty, out of her mind, rebellious, with fashion-daring, a good haircut, and a taste for LSD — just like the girls in my movies. Instead of being a "good soldier" for Charlie and participating in the murders of Leno and Rosemary La Bianca, which she certainly believed was the right thing to do at the time, I wish she had been with us in Baltimore on location for Pink Flamingos.
Waters also argues in Role Models, his book of essays on extraordinary people, that Van Houten's chances at release have been affected negatively by TV shows and movies about the Manson family. Luckily for Van Houten, the next big movie project adapting the Manson family murders to the big screen, directed by Quentin Tarantino, will hit theaters after the deadline for Governor Brown's decision on her parole.
Flavorwire reported on Van Houten and Waters' long friendship: "Van Houten was a poster child for how the horrors of drugs, free love, and communal living could ruin a nice girl from a well-to-do family in the late '60s; she's exactly what the parents of Waters' generation warned their kids about, and the type of antihero Waters typically puts in his films."
Waters' long friendship with Van Houten, forged when the writer was intending to profile his subject, is similar to the bond that formed between Truman Capote and convicted murderer Perry Smith, while Capote was writing In Cold Blood. In both his groundbreaking account of Smith's murders, and in his later writings, Capote described seeing himself in Smith, as they were both ostracized in their youth, though Capote's circumstantial privilege allowed him to engage with his own unhappiness by creating art.
"It's as if Perry and I grew up in the same house," Capote wrote, "then one day, he walked out the back door and I walked out the front." Though the writer never confirms that he fell in love with Smith while writing his book, In Cold Blood does include a long passage describing a conversation Capote had with Perry on the subject of being queer. Capote found an emotional intimacy with Perry before Perry was hanged for his crimes, one that might have damaged Capote's career if In Cold Blood hadn't been hailed immediately as a seminal work of literary non-fiction.
John Waters, similarly, brands himself as a purveyor of strange cultures and uncomfortable truths, so his friendship with a member of the Manson family hasn't damaged his image. Both writers believed, at least partially, that circumstances in White and Van Houten's lives had led them to choose violence. They also believed — though Waters argues for Van Houten's release with more conviction than Capote ever did regarding Smith — that some murderers can be rehabilitated.
No one, including John Waters, can say for sure what kaleidoscope of cultural and personal events led to Van Houten joining the Manson Family cult and murdering innocent people. The most pressing question, over the past four decades, has actually become: what exactly does the prison system need from Van Houten to prove that she has been rehabilitated?
Many have called for proof of remorse, especially because Van Houten was markedly guiltless during her trial, telling the press that she simply couldn't change what she had done. After being deprogrammed and extracted from Manson's influence while incarcerated, Van Houten told Waters, "I became saturated in acid and had no sense of where those who were not part of the psychedelic reality came from. I had no perspective or sense that I was no longer in control of my mind." The parole board has noted the subject of brainwashing in every meeting with Van Houten, and though every board member hasn't agreed on whether she was entirely controlled by Manson that night in 1969, they do all agree that she has demonstrated that she is no longer a threat to society.
Even after spending years in prison, according to Waters, Van Houten reportedly cut holes in the back of her uniform shirts to make room for the fairy wings Manson told her she'd grow. Her bizarre delusions, when Waters lays them out both in HuffPo and his memoir, Role Models, begin to sound less like the ravings of a murderer, and more like the fever dream of a teenage girl on acid. In the words of the deputy commissioner in Van Houten's 2016 parole hearing, Manson carved her identity out of her using drugs and his charisma, and she was simply "gone".
"What does society do with a killer elf who decades later is now all better?" Waters asks. "Who could understand?"
The parole board granted Van Houten suitability for parole on September 7, which began a countdown to Governor Brown's final say. Within 150 days, we will know if Manson's "golden girl" has legally earned her right to walk free.
Politically, it will likely never become uncontroversial to release a member of the Manson family on parole. That's a reality of which Governor Brown — who, at 79, has spent two different spells as California's top legislator and remains one of its most experienced veterans — is acutely aware.
Regardless of whether Van Houten is released from prison, our fascination with the Manson family murders and Helter Skelter isn't going to dissipate over time. If Tarantino's film turns the maelstrom of LSD-infused brainwashing and murder into a stylish, sensationalized pop culture product — as he did with the German holocaust in Inglorious Basterds and American slavery in Django Unchained — the delicate analysis required to decide Van Houten's fate will be drowned out by a flashier, more dramatic version of what happened.