The Actual Sean Spicer Fires Shots at Donald Trump at the Emmys
But is it too little too late?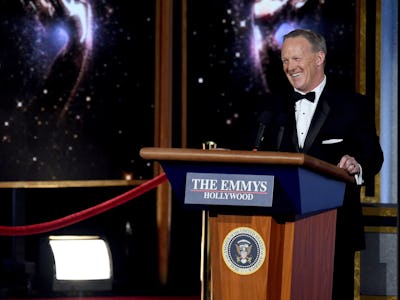 Getty Images / Kevin Winter
Stephen Colbert isn't afraid to get political — remember his blistering speech at the 2006 White House Correspondents' Association Dinner? So, it's no surprise that the host of The Late Show set his sights on President Donald Trump during his opening monologue. What was a surprise, though, was a cameo appearance by former Press Secretary Sean Spicer, who resigned from the administration in July.
What Happened
After making jokes about Trump never won an Emmy for The Apprentice (still a sore spot for him), Colbert noted that ratings were more important to Trump than anybody else. So, in order to verify that a record crowd was watching these Emmys, he brought out a very special guest. Spicer, beaming, rolled out with a special podium.
"This is the largest audience to witness an Emmys. Period. Both in person and around the world," Spicer said.
"Thank you Melissa McCarthy," Colbert responded, joking about McCarthy's impression of him on Saturday Night Live.
What It Means
Trump's administration (and Spicer's tenure as Press Secretary) got off to a rough start when Spicer insisted that the president's easily disproved claim that his inauguration drew a record crowd was true.
"This was the largest audience to ever witness an inauguration, period," Spicer said back in January, despite most data indicating that Trump's crowd was far, far smaller than the turnout for Obama's record-setting 2008 inauguration and subsequent 2012 inauguration.
That Spicer is goofing on his former boss is entertaining for Trump's critics, but there's something disquieting about it as well. Part of the reason why the inauguration crowd "controversy" caused such a stir was because the president, on essentially day one, was insisting that his ego-driven narrative was true despite copious amounts of evidence to the contrary. It was a worrying start to a presidency that has continued to have a loose relationship with the truth, and Spicer's insistence that Trump's numbers were true set an early precedent for enabling these "alternative facts."
Now, flash forward a several months later, roughly two months after Spicer left the administration on unglamourous terms, and a (mostly liberal) Hollywood crowd is applauding Spicer as he explicitly references the very lie that kicked off the Trump presidency. This comes after Spicer recently endeared himself to TV audiences with a friendly appearance on Jimmy Kimmel Live!.
Sure, it's fun to see Spicer, an admittedly affable guy, take shots at his former boss. But, don't forget that Spicer willingly took that job, and kept it until Trump humiliated him out of the position. If Spicer hadn't kept up the president's lie about the size of the inauguration crowd, it would have made for much worse TV, but would have made a much more positive impact. (Let's pump the breaks on his rehabilitation tour for just a moment.)
What's Next?
Trump is probably going to unleash a bunch of angry tweets.