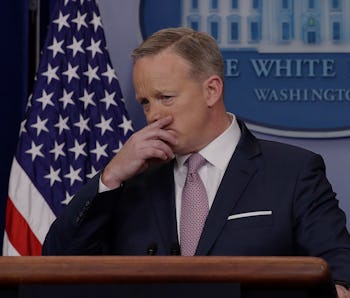 Entertainment
The 4 Best "Alternative Facts" Podcasts of the Week
"Alternative facts" are very much in vogue at the moment.
Getty Images / Chip Somodevilla
The United States is one week into Donald Trump's presidency, and what a week it's been. So-called "alternative facts" have suddenly become the norm for the Office of the President, and Press Secretary and gum-swallower extraordinaire Sean Spicer is leading the charge. While it's fun to mock Spicer's apparent separation from reality and his already contentious relationship with the press corps, it's a good idea to not forget that "alternative facts" are, well, a bad idea. A problematic, damaging idea. So, let's talk about it.
Or, rather, let's let other people talk at us about it. Podcasts are both a great break from reality and a way to firmly plant yourself in it but in a fun way.
Below is a list of the four best podcasts of the week that discuss the problem of "alternative facts." Whether those "facts" are the size of the crowd at the inauguration or the size of Trump's hands, facts are important. Let's not forget that.
Bloggers Kid Fury and Crissle are recent New York transplants who combine humor with commentary about some of hip-hop and pop culture's biggest stars. Of course, the star of the week is Spicer's alternative facts, so there's a lot to talk about there.
The Brilliant Idiot themselves are Charlamagne Tha God and Andrew Schulz. They discuss the news of the week in a similar manner to you and your friends when you're not totally sure what you're talking about, but you know it's important. Their podcast is funny and genuine and listening to them discuss "the alternative facts of life" is certainly a good way to spend an hour.
Slate's Political Gabfest was voted "Favorite Political Podcast" by iTunes listeners for a reason. It's funny and smart as a whip, plus it's informal as can be, cutting through the news speak and focusing on the topic. This week, it's "how the hell has it only been a week?" which seems like a legitimate question to explore.
Pod Save America is looking to answer the question that popped into everyone's minds when the term left Spicer's lips earlier this week: "What the hell are alternative facts?" Former aids to President Obama — Jon Favreau, Dan Pfeiffer, Jon Lovett, and Tommy Vietor — try to figure it out.