No, Donald Trump Didn't Photoshop His Hand in This Inauguration Photo
We all know he's incredibly sensitive about his paws.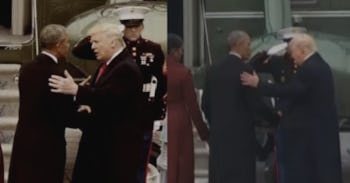 Getty Images / Isaac Brekken
Donald Trump's only been president a week, and there's already allegations of major conspiracy: He's been Photoshopping his hands to make them bigger in photographs. It is ridiculous, but that didn't stop an image from picking up speed around the Internet on Friday.
A tweet showing two side-by-side images shows the size of Trump's left hand as it appears on outgoing president Barack Obama's right bicep. The two are shaking hands on Inauguration Day. The image on the left shows Trump's left hand as much larger than it appears in the image on the right.
The tweet quickly went viral, racking up over 24,000 retweets over about three hours. Author Dana Schwartz first shared the side-by-side images in a tweet with the caption: "Trump 100% photoshopped his hand bigger for this picture hanging in the white house, which is the most embarrassing thing I've ever seen." The tweet has since been deleted, but it's been preserved in screenshots.
Trump's tiny hands have been a recurring insult ever since Marco Rubio slung it during the campaign. Rubio said this on the campaign trail back in March about Trump: "Have you seen his hands? And you know what they say about men with small hands… you can't trust them."
Disney Feature Animation layout artist Joaquin Baldwin shared a GIF backing up Schwartz's claims.
However, there were a couple of things off about the original arguments that Trump's hands were getting retouched. The photo in the viral comparison is not hanging in the White House; it was used during an ABC report on the president. Schwartz's screenshot looks to be part of the report where the Getty Image of the goodbye between Trump and Obama was used as a transition. When the photo is shown, the video also pans around.
It appears in the below video about 35 seconds into it:
Many people were vocal about Handgate being total baloney — and in the end, they were right.
The Verge Managing Editor T.C. Sottek did the same comparison of the two images, and they line up.
So no, there's no Photoshopping happening.
You could say things got … out of hand. Something as wild as Trump Photoshopping a part of his body he's known to be incredibly sensitive about makes sense to catch internet wildfire. It was a wrong claim that can now just be remembered as a harmless meme.
Thankfully, the mistake and spread of falsity was about something significant as opposed to a conspiracy theory that a politician was using pizza joints to cover up a human trafficking ring.