Melissa McCarthy's Spicey Is on a Quest for the Truth on 'SNL'
He's finally coming out of the bushes.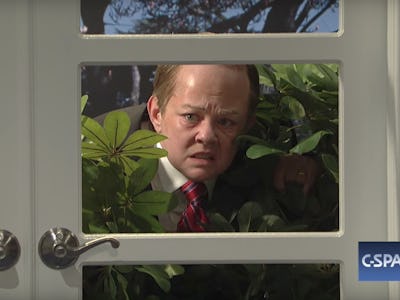 Youtube, Saturday Night Live
Melissa McCarthy's return as Sean Spicer on Saturday Night Live provided a brief comic respite from a truly stressful week in political spin. With the White House's reasoning for FBI Director James Comey's dismissal changing constantly, like a fickle wind, McCarthy's skit almost felt like a preferable reality.
Screaming at reporters like a high school gym teacher, Spicey was back at the podium once again, answering tough questions about Comey while still managing to brutally berate the press corps.
Always a fan of props, in this segment Spicer uses a set of Russian nesting dolls to explain the Comey firing. "Okay, here's Trump. He's the biggest one, and the most beautiful," he says.
President Donald Trump has simply decided that he's had enough of Comey: the doll inside of Trump, who is for some reason a depiction of Jake from Adventure Time. Inside that doll is, as Spicey explains it, Trump's top advisers and "good, good friends" who helped him come to his decision: Steve Bannon (depicted as Slimer from Ghostbusters) and Jeff Sessions (a Pikachu).
The incredulous press corps doesn't really buy Spicer's explanation and go on to ask him if his own job might be the next position on the chopping block. This elicits a crisis of faith in Spicer that sends him on a quest to find his friend Trump, set to "The Only Living Boy in New York" by Simon and Garfunkel. In a pathos-inducing sequence, Spicer scours the streets of New York City on a motorized podium, searching for his pal. Some lucky New Yorkers already caught a glimpse of this when SNL was filming on Friday.
"I can't go back to the Navy! I can't swim," Spicey says as he rolls around Manhattan.
Finally, he finds President Trump (played by Alec Baldwin) at a golf course in New Jersey, and some ominous — and homoerotic — action ensues.
Does this spell out the end for Spicey?
You can watch the whole sketch below.