Netflix Adds First 'Lord of the Rings' and 'Batman,' But Not the Others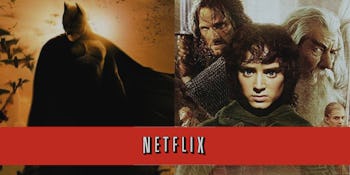 Warner Bros.
Two of the best action film franchises of the mid-aughts are coming to Netflix this August. But, only the first movies in the trilogies. If you want to follow up with their respective sequels, you're going to have to go elsewhere.
On Wednesday, Netflix released its list of new titles coming to the service for summer's hottest month. They include many cool originals, like the next season of Voltron Legendary Defender (Shiro: Gay Icon), Matt Groening's fantasy spoof Disenchantment, Season 2 of Ozark, and films like To All the Boys I've Loved Before and Like Father with Kristen Bell and Kelsey Grammer.
But, two of the biggest non-Netflix original movies coming this August are Christopher Nolan's Batman Begins (2005) and Peter Jackson's The Lord of the Rings: The Fellowship of the Ring (2001). While both films have come and gone from the service about a half-dozen times, it's still a big deal, as the legacy those movies left behind still reverberate in modern cinema.
It's unclear why, though, The Dark Knight, Dark Knight Rises, Two Towers, and Return of the King are MIA. Maybe that's something to look forward to come September?
Before cinematic universes were a thing, Christopher Nolan resurrected the beleaguered Batman franchise with an ultra-realistic, grim take on the comic book hero's mythology, which was still recovering from a debilitating image in 1997's Batman & Robin. With Batman Begins, Nolan cast Christian Bale in a "superhero epic," a genre that is still rare in 2018.
Seeking influences from Blade Runner, Lawrence of Arabia, and The Man Who Would Be King (a 1975 John Huston movie that also starred Michael Caine, who played Alfred) than specific comic book arcs, Batman Begins kickstarted Nolan's trilogy that later gave the world The Dark Knight (2008) and The Dark Knight Rises (2012). In between, Nolan wrote and directed The Prestige (2006), Inception (2010), and Interstellar (2014), which explored similar themes and ideas that only enrich his vision of DC's greatest detective.
It's simple: No Batman Begins, no dark superheroes. That's either a terrible or great thing, depending whom you ask.
As far as The Lord of the Rings goes, well, come on: It's Lord of the Rings. You can already hear the opening notes to Howard Shore's haunting, beautiful score.
Both films will begin streaming on August 1, along with other hits like Kevin Smith's Clerks (1994), Francis Lawrence's Constantine (2005), and Clint Eastwood's controversial 2008 drama Gran Torino. The Coen Brothers' neo-classic, No Country for Old Men, begins streaming on August 11.
Additionally, holy forking shirt, the amazing second season of The Good Place begins streaming way later, on August 28. That's just in time to catch up with Season 3 premieres September 27 on NBC.