The Most Lovable Idiot on Television Is More Important Than You Know
Dumb as rocks but warm as a blanket, Jason Mendoza is changing Asian stereotypes.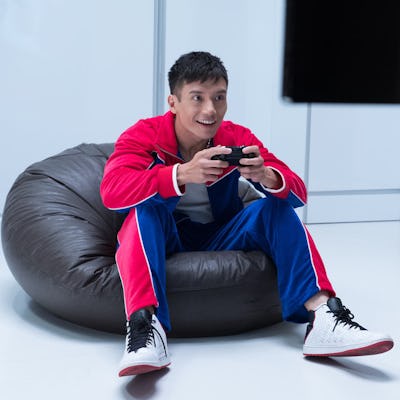 NBC
Let's assume you've never seen or heard of The Good Place. If you haven't, great. If you have, play along — I want to try something. I'm going to describe one of the main characters of this delightful NBC sitcom, a show about the afterlife that's the TV equivalent of a pastry baked in your hometown: sweet and fulfilling. But I'm going to omit one major part of the character's description.
Jason is a club DJ from Jacksonville, Florida. He's a bro who gorges on Madden NFL and hot wings in equal amounts. He has a crush on Ariana Grande. His solution to every problem is, in his words, to throw a Molotov cocktail at it. And when he does throw a Molotov cocktail, Jason, with all the enthusiasm he can muster, yells out "BORTLES" in honor of Jaguars quarterback Blake Bortles. He is also very sweet and very dumb. He likely cannot spell "IQ," but he almost married a supercomputer named Janet.
Now that Jason is in your mind, what ethnicity did you picture him as?
Chances are you're picturing a meaty white bro rather than an Asian man. But as it turns out, TV's most lovable nitwit is played by Filipino-Canadian actor Manny Jacinto.
This is Jason Mendoza:
In 2018, it is a small step to have diverse actors on a TV show. But it is also a giant leap to have them play against type, and in Jacinto's case, against racial stereotypes. He's not alone. Jason Mendoza is a part of the first generation of "Asian bros" on TV, joining Crazy Ex-Girlfriend's Josh Chan (Vincent Rodriguez III) and iZombie's Dr. Ravi Chakrabarti (Rahul Kohli). Together, these dudes are the antithesis to the majority of Asians in pop culture, who are often portrayed as socially inept, dorky, and sexually repressed as they are sexually repellant.
The dominant Asian stereotypes can be traced back to the first waves of Asian immigration amidst 19th century westward expansion. Threatened by cheap labor, American mass culture emasculated Asian men (and over-sexualized Asian women) to repress them from moving up social and economic ladders. A number of laws relegated immigrants as undeniably second-class citizens, including caps on immigration, such as the Chinese Exclusion Act and the prohibition of miscegenation. All these efforts kept the Asian diaspora in America down for generations.
Times changed, but the aftereffects of those first discriminatory efforts could be felt well into the MTV era. John Hughes's 1984 teen rom-com Sixteen Candles, where Gedde Watanabe's Long Duk Dong spent his screen time stalking Molly Ringwald to the sound of gongs, and his broken English left the biggest cultural wreckage in its wake.
In 2011, Han Lee, an immigrant South Korean restaurant owner (played by Chinese-American Matthew Moy) took up the baton in the CBS sitcom 2 Broke Girls. Lee's ignorance of American culture made him the butt of jokes throughout the show's six-season run, essentially making him a two-decades older Long Duk Dong.
Offensive and simple caricatures like Long Duk Dong, Han Lee, and so many like them, are only part of the problem. Many Asians in pop culture are warped versions of the "model minority" stereotype, one that has roots in reality but grossly glosses over the nuance. Even when Asians are shown as hardworking, intelligent, and successful on screen, they are still largely sexless.
Here's Guy Aoki writing in the culture blog Rafu Shimpu about the 2016 film The Edge of Seventeen, which had Chinese-Canadian Hayden Szeto opposite Hailee Steinfeld.
"Twenty years ago, if a young Asian male had a romantic relationship with a woman on television, it would've caught your attention," Aoki writes. "Because usually, only Asian women were allowed to get romantic, and it was almost always with a white male. The message? Asian women are attractive, Asian men, not."
Aside from few exceptions, like last year's The Big Sick with Kumail Nanjiani, or the Harold & Kumar films — which satirized Asian stereotypes head-on as a politically incorrect stoner road trip flick — the notion of a sexually appealing Asian man was near unheard of. Now, all of a sudden, we have a gaggle of televised Asian bros, who are allowed to be as dumb as rocks, bucking the model minority trope, but they're great in bed. In The Good Place, Jason Mendoza has not only been caught in a love triangle but married two different women, even if one of them was a robot.
More important than defying stereotypes, these Asian bros are allowed a spectrum of emotions, even pathos, that endear them to viewers. That their genetic makeup is a distant afterthought is crucial in the de-"othering" that the likes of Long Duk Dong or Apu in The Simpsons painfully remind audiences.
It's unlikely that a dozen Jason Mendozas will undo decades of unflattering, stereotyped math nerds, so we probably don't need to worry about an overcorrection that will typecast Asian actors as sexy dumb bros.
But, the new character archetype is a better reflection of reality. Crazy Ex-Girlfriend showrunner and star Rachel Bloom noticed this when she told BuzzFeed in a 2016 interview that Josh Chan was made because Bloom didn't see anyone like the boys she grew up with on TV.
"I grew up with a lot of Asian bros. That's a type of person that I grew up with that I've never seen anywhere in the media," she said.
Rodriguez, who has played Josh on Crazy Ex-Girlfriend since it began in 2015, echoed Bloom: "He doesn't have the same problems as me, but I know who this person is. I grew up with Josh Chan, with Joshes in school."
After playing Jason Mendoza, Jacinto says he now consciously avoids roles that sound too much like Long Duk Dong. But, he couldn't when he started acting, because actors also have to pay rent.
"There were definitely auditions and even bookings and jobs where I played your typical Asian model minority, an IT tech guy or something of that nature," he told Vulture in a 2018 interview. "It's tough sometimes, especially when you're starting out, he continued, lamenting that all too often Asian actors get roles that end up being just "a typical nerd."
He added: "That's why creating roles is really important, especially for the Asian community on both sides."
Yesterday's stereotypes haven't gone away. And they're just as likely to stay. But beautiful, sweet idiots like Jason Mendoza go a long way towards showing how important and rewarding having diverse characters with diverse characterizations is.
The Good Place season finale airs on Thursday at 8:30 p.m. Eastern on NBC.