Netflix's 'Voltron' Just Confirmed One of the Main Heroes Is Gay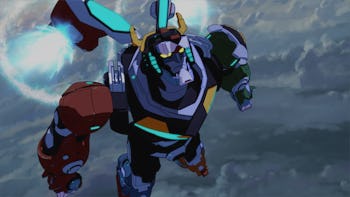 Netflix
One of the heroes in Netflix's Voltron Legendary Defender is gay, and in the upcoming season he will return to his ex-fiancé after a long time in space.
At the Voltron Legendary Defender panel at San Diego Comic-Con on Friday, the cast and showrunners of the popular Netflix animated series gathered to preview the show's upcoming seventh season, slated to premiere on August 10 with 13 new episodes.
But in a reveal that stunned the audience, co-showrunner Lauren Montgomery confirmed that Shiro, the leader of Voltron and pilot of the Black Lion (voiced by Josh Keaton), is gay. And in the new season, fans will be introduced to Adam, Shiro's (black!) boyfriend who is still on Earth with the Galaxy Garrison.
This also means that yes, Team Voltron is headed back to Earth. A new trailer that debuted at Comic-Con also shows the Paladins returning to Earth, only to find that the new Galra Empire is moving in.
"He's not married yet," Montgomery explained to an audience still regaining their composure, "but that was the road they were going down until Shiro made the unfortunate decision [to leave], and they drifted apart and that was the end … for their relationship. It was definitely something, that beautiful relationship that had developed over years."
Montgomery added that in an upcoming episode (which was screened early to the Comic-Con audience), "You'll see in that little case with the trophies is a picture of Shiro and Adam. They had been flight partners."
Shortly after the reveal, "Shiro" began trending worldwide on Twitter. As of this writing, there are over 61,000 "Shiro" tweets and counting.
The reveal comes to a great, and pleasant, surprise to the Voltron fandom. Because Shiro's personal life in the show has been something of a mystery — and because he's drawn and characterized as what you would call a "daddy" — there's room for Shiro's backstory to be fleshed out, even after six seasons.
What makes Voltron quietly revelatory is that Shiro is also a masculine Asian character, a rare portrayal in western pop culture. That he is also gay adds even more complexity to Shiro's whole identity.
Voltron Legendary Defender will return for Season 7 on August 10 on Netflix.