Thirteen Years Later, 'Constantine' Director Explains What Went Wrong
Francis Lawrence reflects back on the 2005 gothic superhero movie.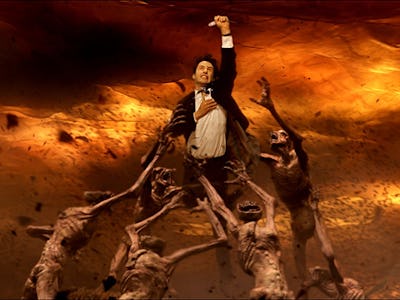 Warner Bros. Pictures
Before superheroes were connected by a shared universe, John Constantine stood on his own. The 2005 Keanu Reeves vehicle Constantine, from director Francis Lawrence, nailed the gothic tone of DC and Vertigo's Hellblazer — but not much else. In an interview with Inverse, Lawrence looks back on his first feature film, citing three things he would change if he could make it today.
During the press tour for his new film Red Sparrow, the director acknowledged the many problems fans have with his take on Constantine. "I know what the criticisms are," he tells Inverse.
Ask any reader of the Hellblazer comics and they'll explain what's wrong with the movie: Reeves isn't blonde, or British, and his performance — as well as the movie — lacked Constantine's signature dry wit. (All of these boxes were checked a decade later, albeit on TV, when Britsh actor Matt Ryan starred in the short-lived Constantine series on NBC.)
However, there are three things Lawrence would "certainly change" if he could. First, it should be funnier. "It's not a romp, but it should be funnier. It should have more of John Constantine's rye, sarcastic cynical humor."
Second, Lawrence said that storywise, it got caught up in supernatural gobbledygook that nobody really cares about." He said that those stories "tend to [fail] when you're trying to build a world and it's not all that relatable. So I would refashion the world in a way that's visceral and relatable."
Lastly, Constantine was rated R by the MPAA, when throughout production they were aiming for a milder PG-13. "We followed the guidelines for a PG-13 movie, but we got an R. Had I known we were gonna have an R, I would have made an R-rated movie. If I made Constantine now, I wouldn't make a PG-13 movie."
In spite of its faults and departure from the comics, Constantine remains a cult favorite that has its own fans. "Besides Hunger Games, the DVD cover I'm asked to sign the most is Constantine," Lawrence says. "It has a huge fan base which has been amazing to see. I actually watched it recently, there's some fun stuff."
But in spite of rumors of Warner Bros. trying to resurrect John Constantine back on the big screen, Lawrence says he has no interest in returning to the world of the Hellblazer. "No, I wouldn't do it again," he said.
Red Sparrow is in theaters now.