'Red Sparrow' Makes Jennifer Lawrence the Anti-Bond Girl
In his take on the erotic spy movie, 'Red Sparrow' director Francis Lawrence says he didn't want to titillate audiences.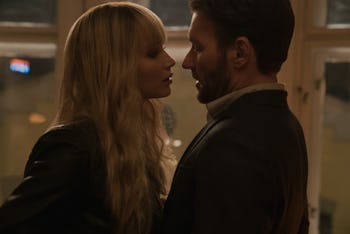 Twentieth Century Fox
Francis Lawrence didn't want to arouse anybody.
Inside a five-star hotel room in Manhattan, exactly the kind of rooms you see in globe-trotting spy movies, like his newly release Red Sparrow, the Hollywood director reclines back, legs hoisted on an ottoman. Behind him is a view of Central Park, at the moment dampened by a February drizzle. Inside, it's much warmer, the room lights giving off an orange-yellow hue.
Lawrence tells me he got hooked on a spy novel, 2013's Red Sparrow while working on The Hunger Games movies with Jennifer Lawrence (no relation). The biggest thing he took away from the book was its harsher, grittier world of espionage that would make even James Bond flinch. "You have mission, tech, action, political stories," the director says. Instead, Red Sparrow was "personal, emotional, visceral."
To the director, that specific worl informed what sex should look like in the movie. Sex isn't a reprieve from the violence, like a Bond movie. Sex was "part of the brutality of the world."
In stark contrast to the flatlining spy movie genre, Red Sparrow, now playing in theaters, approaches cinematic sex in ways that are divorced from the male gaze. The film adds complicated nuance to sex and sexuality in ways that are absent in the majority of spy movies, from Bond to Atomic Blonde.
"I did not want to make an erotic thriller," the director explains. "I did not want to make anything that would titillate."
The Sexual World of Sparrows
In Red Sparrow, Jennifer Lawrence stars as Dominika, a prima ballerina dragged into service by her uncle to become a "Sparrow," a honeypot for the Russian Foreign Intelligence Service (SVR). Honeypots, both in fiction and in real life, involve seduction to obtain recruits or intelligence. In the James Bond movie From Russia With Love, the honeypot was Tatiana Romanova. In Battlestar Galactica, it was Boomer. In real life, it was female KGB officer known as Violetta Seina, who entrapped U.S. Marine Clayton J. Lonetree who was blackmailed into handing over sensitive documents in 1987. Now, there's Dominika, and problems arise when Dominika gets involved with American CIA agent Nate Nash (Joel Edgerton), who has a mole planted in the upper echelons of Russian intelligence.
Much of the film's grit comes from the 2013 novel it's based on, written by 33-year CIA veteran Jason Matthews.
"My book is all fiction, but it's an amalgam of people I've known, of things I've done, of stuff I've lived," he explained to the New York Times in 2015, while promoting the book's sequel. In an earlier 2013 interview with Publishers Weekly, Matthews explained that a Sparrow School really existed in the Republic of Tarstan during the Cold War, "and the use of sexual entrapment and compromise of targets by the Russians is well documented."
"I don't know if there still is an operating Sparrow School, but I imagine honey traps are still used," he added. In a 1987 article from The Washington Post, they were identified as "Swallows."
In Red Sparrow, Sparrows use their bodies to collect intel. As a result, sex is as cold as gunmetal. In one scene, Dominika and her fellow trainees are tested at a mixer, with the objective to "welcome home" soldiers back from abroad. Dominika chooses a young, inexperienced grunt, and avoids sex by making him climax from a handjob. The camera frames just their heads before cutting to a theater, where the whole class is reviewing Dominika's performance. She fails.
"The intention is not to turn on," he says. "When Jen [Lawrence] said yes to this, the writer Justin Haythe really worked as vigilant as possible making sure any scenes with that content married with the themes of the story, the emotional values. Together we made sure that that all worked."
Redefining the Genre
Redefining sexuality in spy movies involves undoing the misogyny of the genre, and Lawrence had his work cut out for him. Chiefly defined by Bond but succeeded by more progressive fares like Atomic Blonde, spy movies come with the implicit obligation to arouse audiences between car chases and shootouts.
In her 2015 book For His Eyes Only: The Women of James Bond, Dr. Lisa Funnel, Assistant Professor of Women's and Gender Studies at the University of Oklahoma, wrote that sex in Bond films are made by design "to be enjoyed," specifically by heterosexual men watching them. Women in Bond movies — the so-called "Bond girl" — are more often than not a rotating element rather than fully realized characters. Their disposable nature is "something to which audiences have become accustomed," Jade Budowski wrote in a 2015 Tribeca essay. Women in the Bond movies are sex objects and eye candy to be consumed.
Let's also not forget Bond creator Ian Fleming's well-documented misogyny; in the voice of a "Bond girl" in his novel The Spy Who Loved Me, Fleming wrote, "All women love semi-rape. They love to be taken. It was his sweet brutality against my bruised body that…" and that's where we're going to stop this quote.
It's been a long time since Fleming's day, though of course sexual politics are still widely misunderstood. But even modern, progressive spy movies like last summer's Atomic Blonde are still titillating and very much shot with the male gaze in mind. In that film, Charlize Theron and Sofia Boutella turned up the heat in a kinetic lovemaking scene that Theron herself described as, well, "very sexy."
Sex and Violence
Sexual dynamics in Red Sparrow, which Lawrence describes as a "survival story," are nothing like other spy movies. Sex isn't pleasing but painful to watch. Keeping true to the themes, Lawrence also approached violence in the same manner he approached sex: Without heart-throbbing adrenaline, full of heart-stopping tension. Take, for example, a torture scene that ends in an extremely raw knife fight.
The torture scene, which I observed critics squirm at during a screening, involves a skin grafter taking off whole layers of flesh at a time. Lawrence says he was inspired by a documentary, "one of those TLC shows about operations" about a burn victim.
"I saw this skin grafting tool, and it really creeped me out," he says. The director stored the memory in the back of his mind until Red Sparrow came along.
"There's tropes in spy films … interrogation scenes like that. We've seen these a lot," he says. "When it came time to do something different, I pulled it out of my head and had Justin put it in the screenplay."
The genius of the scene, which almost resembles a horror movie, is followed by a gory kitchen knife fight where every slice cuts deep.
"It's not an action movie," Lawrence explains on why the fight isn't tactical, like John Wick. "I wanted to make sure the fight didn't feel choreographed. That it felt real, authentic, and grounded. To me, that meant really violent and really fast."
Lawrence smiles a little. "On set, it's actually kind of fun." The skin grafting tool was a rubber prop that didn't work, and was "slowly rubbed around" Joel Edgerton's back. "It's very fun. I think the actors even had fun, but people have a very visceral reaction."
"I did not want to make an erotic thriller … I did not want to make anything that would titillate." - Francis Lawrence, director of Red Sparrow
"Brutal Instead of Glamorous"
There's a compelling exercise to be observed with Red Sparrow. Though it has the spit-shine polish of a Hollywood blockbuster, Red Sparrow isn't exactly exciting to watch. For most spy movies this is a cardinal sin, but for Red Sparrow, it's a radical idea. What if spy films were as raw and unforgiving as the job might actually be? For a genre that's celebrated sex almost exclusively through the lens of a heterosexual male fantasy, what if a spy movie tried something different: reality?
That's not to say Red Sparrow is a documentary. Nor is there anything wrong with portraying sex as a good time, because ideally, it is. But in its departure from genre norms, Red Sparrow is bold in its unsentimental approach to the spy thriller staple. Yes, this is a film where A-list star Jennifer Lawrence bares all — in Vanity Fair, the actress said she joked to the camera crew, "I hope you guys feel creepy" — but Red Sparrow has not turned its star into a Bond girl.
Says Francis Lawrence, "I thought it painted the world as brutal instead of glamorous or sexy."
Red Sparrow is now playing in theaters.