Taylor Swift Video Director's Unused 'Justice League Dark' Designs Are Sick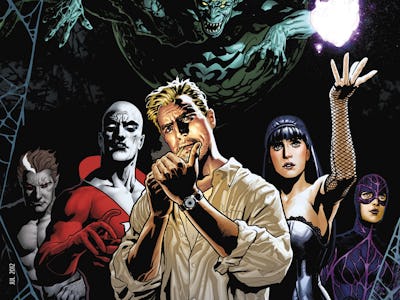 DC Comics
In an alternate universe, Taylor Swift's favorite collaborator did Justice League Dark. Over the weekend, film and music video director Joseph Kahn revealed his concept art for the ragtag misfits of Justice League Dark, a still-in-development superhero movie starring the mystical heroes of the DC Universe. And, oh man, are they a sight to behold.
On Friday, Kahn shared his designs for the main characters of Justice League Dark, including "fan casting" several known genre actors in order to create his concept art. In typical Joseph Kahn fashion, he did the reveal over Twitter. (Back in 2015, Kahn casually tweeted out his gritty POWER/RANGERS short, which went viral overnight.)
"I pitched on Justice League Dark two years ago. Here are some designs. First, Swamp Thing," he tweeted. Sure enough, Kahn shared his concept for Swamp Thing, along with a VFX test he previously uploaded back in the spring of 2016. After Swamp Thing, Kahn shared his designs for John Constantine (Dan Stevens, Legion), Zatanna Zatara (Natalie Dormer, Game of Thrones), Deadman (no actor), and Jason Blood, using Chiwtel Eijiofor.
Introduced in a 2011 comic by Jeff Lemire, Justice League Dark is a Justice League-esque alliance made up of magic users who inhabit the DC universe. Led by the chain-smoking John Constantine, the JLD typically battle threats that the normal Justice League are ill-equipped to handle. Remember: Kryptonite isn't the only thing Superman is vulnerable to. (The Man of Steel has repeatedly shown weakness to magic.)
In comics, the JLD were made up of Constantine, Madame Xanadu, Deadman, Shade, the Changing Man, and Zatanna. In the animated film Justice League Dark by Jay Oliva, the team ditched Shade and Xanadu in favor of Swamp Thing and Etrigan, the rhyming demon.
Each piece of concept art was done in collaboration with Ironklad Studios and artist Justin Goby Fields.
Kahn's Swamp Thing is cool, but his designs for Jason Blood, Constantine, and Zatanna really top it off, proving just how amazing Kahn's Justice League Dark would have been. Constantine and Zatanna in particular get a hard reset in their designs: Constantine (imagined with Dan Stevens) is given a Tenth Doctor-style makeover, with a thick wool coat, a pinstripe suit, and Chuck Taylors.
Meanwhile, Zatanna looks like she raided Hot Topic on Black Friday. Though his design doesn't show it, Kahn says Zatanna would wear a top hat, like she does in the comics.
Finally, Ejiofor, as Jason Blood, which is inspired casting. Too bad it's not real.
As of now, Justice League Dark is still in development. Multiple directors have been attached to the project, including Guillermo del Toro and Doug Liman, and was even named Dark Universe at one point. (No relation to the failed "Dark Universe" franchise from Universal.)
When Liman spoke to Inverse earlier this summer, the Mr. and Mrs. Smith director said he had finally nailed down his ideas. "Studios don't come to me to make conventional choices. Especially in the comic book arena, people are doing such interesting things," Liman told Inverse at the time. "The bar is so high for me to do something unexpected. But I feel like I've cracked it down to something I'm really excited about."
Weeks later, Liman left Justice League Dark, and the movie has been without a director since, leaving the film's future in the, well, dark.