You'll Only Have 3 Hours to Catch Zapdos in 'Pokémon GO' This Weekend
Don't miss your shot at the legendary bird Pokémon.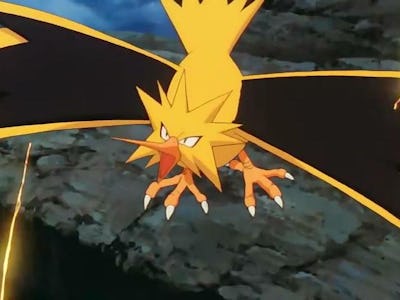 The Pokémon Company
Thanks to a lot of hard work by a lot of Pokémon GO players, everyone will have a brief window of opportunity to catch Zapdos. Here's all the last-minute info you need, including exactly what time the Zapdos Day update will arrive in Pokémon GO.
Zapdos Day is set for tomorrow (Saturday, July 21). According to the Pokémon Company website, the exact start time is 2 p.m. Eastern for anyone playing in the Americas. Once the event begins, you'll only have three hours to catch a Zapdos. So make sure you've done everything you need to prepare beforehand.
Once Zapdos Day actually starts, you'll want to spin a photodisc and grab your five free raid passes, which will give you five chances to catch a Zapdos. If that's not enough, or you just want to keep playing, you can also buy extra raid passes through the in-game Pokémon GO store.
Even if you already have a Zapdos in your Pokédex, it's worth noting that the version available during Zapdos Day will automatically come with Thundershock, a powerful attack that will make it a worthy addition to your arsenal. All these Zapdos also increases the odds that you'll happen upon a shiny one, which is also a great motivation for any completionists out there.
You still have a little over a full day to prepare for Zapdos Day in Pokémon GO. So you may want to use that time to plan your lineup (Zapdos is weak against Rock-types so try a Pokémon like Tyranitar or Golem) and make sure you've got some potions on hand. Finally, check in with a few of your Pokémon trainer friends to make sure you'll have a Zapdos-catching squad at the ready once the big day finally arrives.