Dwayne Johnson Won't Play a "Goody Two Shoes" in 'Black Adam"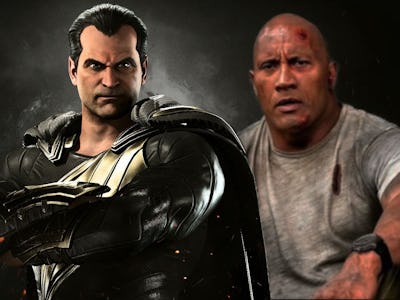 Warner Bros. Interactive
For the past ten years or so, Dwayne "The Rock" Johnson has played the most upstanding of good guys in Hollywood movies. But in his upcoming DC superhero/supervillain film Black Adam, that will all change.
To put it in old school wrestling terms, Dwayne Johnson is turning heel.
In a new interview with CinemaBlend on Wednesday, Black Adam producer Hiram Garcia explained that the film will star Johnson playing a morally gray character. In the comics, Black Adam teeters between anti-hero and outright villain, mostly to the superhero Shazam.
"He is an anti-hero, that he is complex," Garcia told CinemaBlend. "To be able to play into that space and give this character to DJ [Dwayne Johnson] that is kind of a boy scout, and goody two shoes, or not just all dark, but someone who is kind of toeing the line between good and evil and we've created a really great device in our story that allows us to explore that in a great way while still allowing the character to be super enjoyable for the audience."
He added that Black Adam "is so badass" and will be "so complex" as he's "surrounded" by a supporting cast of great characters. "It's very special and a lot more news is gonna be coming in on this."
As Johnson's career in Hollywood approaches the 20-year mark, it's worth pointing out that Johnson hasn't played a villain or antagonist since 2008's Get Smart. Before that, in the 2005 adaptation of the video game Doom, he played a squad leader who turns into a crazed monster for Karl Urban to put down.
In 2011's Fast Five, Johnson played DHS agent Luke Hobbs, where he played antagonist to Vin Diesel's Dominic Torretto and his crew of expert drivers. However, Johnson slowly became an ally throughout the movie, and by 2013's Fast & Furious 6 had aligned with the central heroes.
Lately, Johnson has played almost nothing but good guys, in films like 2013's G.I. Joe Retaliation, 2014's Hercules, 2017's Baywatch and Jumanji: Welcome to the Jungle, and this year's Rampage and Skyscraper.
By entering the DCEU, Johnson may once again return to his darker side.
There is no release date yet for Black Adam.