Dwayne Johnson Actually Seems Kinda Pissed 'Black Panther' Beat 'Jumanji'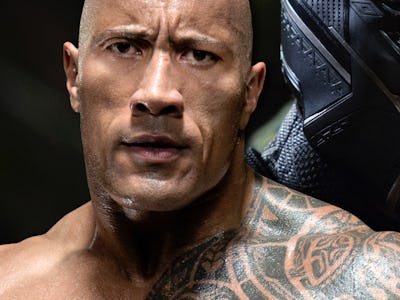 Marvel, WWE
A lot of people are jazzed about the box office success of Black Panther, except for maybe one person. Dwayne Johnson, who recently starred in the winter hit Jumanji: Welcome to the Jungle, is using the Marvel movie's success as his gym motivation for the week. But in an Instagram video, Johnson made it seem like he might actually be a little more ticked off than he's willing to let on.
On Sunday, Johnson posted a selfie video to talk to his 100 million Instagram followers about motivation. Usually, Johnson says, he thinks about providing for his family to get him through his arduous gym sessions, but this week, it's about all the money Black Panther is making.
This weekend, Ryan Coogler's superhero film surpassed $700 million worldwide, with a domestic box office total of $400 million just in its second week. By comparison, Jumanji made just over $387 million domestically in its entire theatrical run. The film was a bigger success overseas, raking in over $500 million for Sony during the winter holiday.
"I think about Black Panther kickin' the shit outta Jumanji at the box office. That's all the motivation I need, okay? That's it," Johnson told his followers.
But then it gets weird. After congratulating Ryan Coogler and Marvel on a job well done, Johnson gives his own "Wakanda forever" salute that comes with "just a little too much mustard" than he intended. After reiterating that he's only using Black Panther's success as gym fuel, Johnson ends the video with a really ticked-off "shit," as if Chadwick Boseman just teepeed his mansion.
The Rock is, by almost all accounts, a pretty chill dude. If a faux beef with a monumental blockbuster is what he needs to motivate himself to get swole, then power to him. Still, the end of the video is weirdly tense.
In total, Jumanji grossed a monstrous $900 million during its theatrical run. That's super impressive, but Black Panther grossing $700 million in just two weeks is mighty. That's a good enough reason for Johnson to clank some iron, even though the Rock could already play the Hulk if he wanted to.
Black Panther is in theaters now.