'Skyscraper's Crazy Jump Wasn't Accurate, but Its Hong Kong Police Were
Cast as an actor, Byron Mann stepped up to flesh out the Hollywood blockbuster's image of Hong Kong.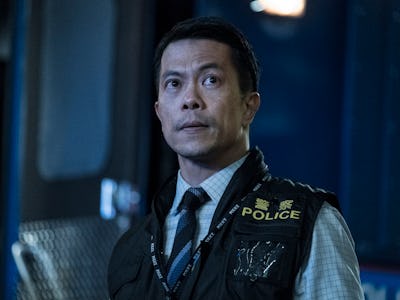 Legendary Pictures
In an action movie where Dwayne Johnson climbs and conquers a mile-high megastructure, heroically making impossible leaps across vast distances, it's easy to think "authenticity" isn't the name of the game. But that's exactly how the filmmakers of Skyscraper approached one particular aspect of the blockbuster: the bilingual dialogue of the modern Hong Kong police department.
Byron Mann, a prominent Hong Kong actor in Hollywood whose credits include 1994's Street Fighter (he was Ryu!) and TV shows like The Expanse, Hell on Wheels, and Arrow, stars in Skyscraper as Inspector Wu. Hitting theaters on July 13, Skyscraper follows Will Sawyer, a veteran amputee who climbs a towering inferno in Hong Kong to reunite with his family. His only real ally on the ground is Wu, a cop who monitors the crazy situation.
While enjoying a coffee in New York City — a town with skyscrapers that can't match the towering heights of the fictional building in Skyscraper — Mann tells Inverse that he plays "a grizzled veteran cop who's seen it all." It's a common character type for action movies, and Mann is quick to acknowledge the trope, explaining that director Rawson Thurber deliberately looked to characters like Reginald VelJohnson's "Sgt. Al" in Die Hard when creating the role.
"[Rawson] said, 'I would love to fashion your role after Tommy Lee Jones in The Fugitive," Mann recalls. "These comparisons are not accidental."
But, Mann had an even more crucial role behind the scenes. While brought on as an actor, a conversation with Thurber led to Mann stepping up as one of three cultural consultants for the film to ensure an accurate portrayal of the Hong Kong police. This mainly manifested in the bilingual dialogue, where Cantonese and English are often spoken in the same breath.
"The first thing I did was I asked Rawson, 'Do you guys have a police consultant?' I thought they did," Mann says. "They didn't."
So Mann recruited an old friend of his, a retired Hong Kong station sergeant. "I introduced them through Skype, and he was brought on as a consultant," he explains. Their first order of business: getting the dialogue right.
"The police speak in a specific manner. I didn't know, and I'm from Hong Kong."
The police of Hong Kong are modeled after the British police system, due to the 150 years Hong Kong spent as a colony of the British Empire. So the language of the police is heavily bilingual. "We found out the Hong Kong police speak in both Cantonese and English. They sprinkle a lot of English liberally."
Skyscraper filmed all of its scenes with the Hong Kong police at least twice, once in English and once in Cantonese. Mann, his police consultant, and another on-set translator went through the script to translate the dialogue in the way the Hong Kong police would actually speak.
"We shot both in English and in Chinese," Mann says. "We translated the dialogue from English to Cantonese, and from Cantonese to Hong Kong police speak." Skyscraper has the most Cantonese dialogue Mann has spoken in a single Hollywood movie since his career began in the 1990s.
As Skyscraper represents the increasingly globalized film market as a co-production between Chinese and American film studios (chiefly Wanda, owner of Legendary Pictures), Mann felt a responsibility in his position.
"When I was cast, I had a chat with Rawson, and he said, 'I want to make an authentic movie,'" Mann recalls, "So when its screened for Chinese audiences, they feel they got it right. This is what things look and feel like in Hong Kong. As someone from Hong Kong, I felt a responsibility to make sure things were presented accurately and authentically."
Skyscraper his theaters on July 13.