Here's Why Fans Think Marvel's New Mystery Movie Is 'Black Panther 2'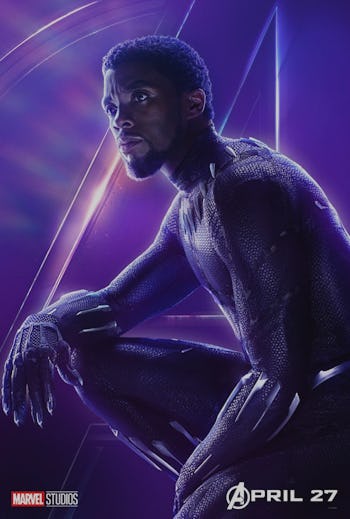 Marvel Studios
A group of Marvel fans think they just discovered unofficial confirmation that Black Panther 2 is happening, along with a new release date from Disney.
But is it true?
As reported by The Hollywood Reporter on Tuesday, Disney announced scheduling changes for its movie release date calendar over the next few years. In addition to pushing back the release of Indiana Jones 5 and other adjustments, the company also moved up "the release of an untitled Marvel title from July 30, 2021, to Feb. 12, 2021" with an untitled live-action Disney moving taking the July slot.
Some fans reacting to the news on Twitter assume that this rescheduled film is Black Panther 2 because the first film released that same February weekend in 2018 and went on to gross well over $1 billion. And they might be right.
However, Marvel Studios president Kevin Feige said in April that Marvel wasn't announcing any post-Avengers 4 movie titles until after that movie was released. (And yet, they announced Spider-Man: Far From Home in June.)
Technically speaking, we can't possibly know what this February 2021 movie is, and we won't know for sure until quite some time after Avengers 4 releases on May 3, 2019. Who knows who will die in that film, and who might get revived?
Still, in terms of February 2021 release speculation, Black Panther 2 is as good a guess as any. We're much more likely to get that on the release calendar than Doctor Strange 2, or Iron Man 4.
"Top box-office authority" Exhibitor Relations — known for announcing the release dates for nine upcoming MCU movies back in March — also posted to Twitter wondering if Marvel might try to release Black Panther 2 in one of the earlier time slots in 2020 rather than almost three years after the first:
Marvel Studios president Kevin Feige did say in February that the company wanted writer-director Ryan Coogler to return for the sequel. So Coogler's schedule is probably the only real thing that could potentially delay production for the sequel.
That, or the obvious fact that King T'Challa, the Black Panther himself, got ashed by Thanos in Avengers: Infinity War.
Thanos killed off most of the MCU at the end of Avengers: Infinity War, which is why none of these scheduled movies have names attached. Marvel Studios wants to pretend like more standalone hero sequels won't happen after Avengers 4. And yet, the company still confirmed another movie with Peter Parker, who died when he turned to ash just like T'Challa.
As such, Avengers 4 will probably have its surviving characters utilize time travel to undo Thanos' actions, therefore reviving T'Challa and the rest of the dead heroes. Then, one quiet afternoon, Marvel Studios will release an overwhelming lineup of MCU movies for the foreseeable future, attaching titles to all of these dates.
If Black Panther 2 were suddenly to begin casting new actors and ramping up production right now, the world would get further confirmation that Avengers: Infinity War didn't really matter, which is itself a huge spoiler for Avengers 4.
Also, consider the fact that Captain Marvel just finished production, the film doesn't release for eight months, and Brie Larson was confirmed for the lead role almost exactly two years ago at San Diego Comic Con. That's almost a full three years between casting announcement and release date.
Between now and this mysterious February 2021 movie, there are potentially seven MCU films on the docket, including Captain Marvel, Avengers 4, Spider-Man: Far From Home, Guardians of the Galaxy vol. 3, and up to three more currently unnamed movies. As of this writing, there are at least three movies per year scheduled on the calendar until 2023. So the possibilities are seemingly endless for what might come out and exactly when, with everything depending on how Avengers 4 changes the MCU forever.
We won't know for sure if this February 2021 film is indeed Black Panther 2 until well after Avengers 4's release on May 3, 2019. Until then, fans can keep hoping.