Tom Holland Reveals Title and Clues for 'Spider-Man: Homecoming' Sequel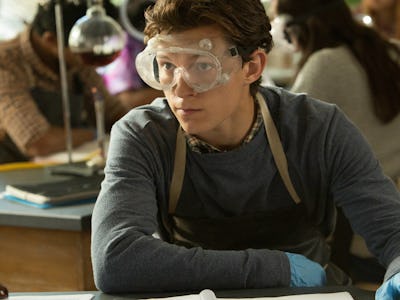 'Spider-Man: Homecoming'
Whether it was a clever troll or a complete accident, Tom Holland took to his Instagram to give a little message to his fans while also revealing the name of the sequel to Spider-Man: Homecoming.
Holland posted the Instagram video on Saturday while at the Ace Comic-Con in Seattle. In the short video, he mentions how there would be no "revelations" about a sequel coming from the convention over the weekend. He did bring up how he received the script for the next movie and flashed his iPad that showed the title of the script, Spider-Man: Far From Home. He made sure to flash it a second time before the video was over, giving the impression that this was a clever ploy to reveal the name of the movie.
The title of the new movie leads to a fair share of questions about what will happen in it. Holland provided one of the most heartbreaking scenes in Avengers: Infinity War so how he will return in Avengers 4 will likely set up the premise for Spider-Man: Far From Home.
Maybe Spider-Man will have the same sort of psychological issues of trying to return to a "normal" life of a superhero after experiencing something cosmic like Tony Stark did in Iron Man 3. It's rumored that Jake Gyllenhaal will be the villain for the sequel, donning the glass dome of Mysterio. If that's the case, the evil master illusionist could play up Spider-Man's trauma incurred in Infinity War.
Spider-Man: Far From Home will be released on July 5, 2019. Marvel currently has plans for two more films featuring the web-slinger with Holland as the star.
For Spider-Man fans in need of a Spidey fix, the animated Spider-Man: Into the Spider-Verse will come out in December, which already has some interesting Easter eggs in its trailer.