Leak Reveals Apple Is Eyeing Foldable iPhones in the Coming Years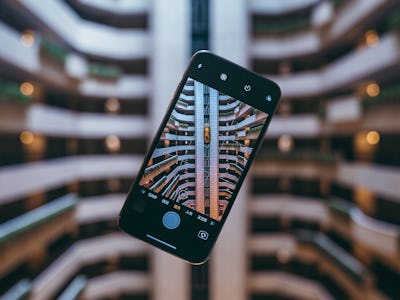 Unsplash / Yiran Ding
Big changes are coming to the iPhone range. A new report on Thursday claimed Apple is planning to release iPhones with enhanced features, as a stepping stone to foldable iPhones "which will come several years later."
The industry source, speaking to Korea Times, claims Apple may soon use LG Display as a second supplier of OLED screens in a multi-million dollar deal, the advanced technology used in the iPhone X that enables a broader contrast range and truly deep blacks. The company is rumored to launch three new devices later this year, but the source also claimed that Apple is seeking to release a foldable phone further down the line. This corroborates with a report from Bank of America Merrill Lynch analyst Wamsi Mohan, who claimed in March the company is working with Asian suppliers to release such a device by 2020.
Apple is not the first company to experiment with the concept of a foldable phone. A Samsung concept video for a flexible OLED phone showed how such a device could offer double the screen real estate while fitting in a pocket, providing more of a journal design. Microsoft's rumored Andromeda Surface device is set to offer a six-inch display with phone capabilities when it launches later this year. Microsoft previously explored the concept in the "Courier" tablet back in 2009.
Of course, there may be some details lost in translation. Bloomberg reported in April that Apple's curved display phone is two to three years from release, using a non-flat design similar to the Samsung Galaxy Edge phones. The report also claimed the device could use a display-based technology to capture users' motion gestures above the screen — although the report states this could be at least two years away, if at all, ever.
Apple is set to unveil the next step on its futuristic journey later this year, where reports claim the company will launch three devices in a dizzying array of colors.