Foldable iPhones Could Arrive by 2020, Reports Claim
Just don't call it a flip phone.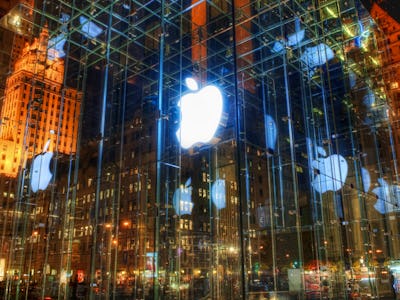 Flickr / Stuck in Customs
Apple plans to radically change the design of the modern smartphone, again. While foldable phones are still only in the concept stage, a new report suggests that Apple plans to release its first model by 2020.
A report from Bank of America Merrill Lynch analyst Wamsi Mohan claims Apple is working with its Asian partners to design a foldable phone. Mohan met with several Apple suppliers in Asia before announcing the plans to clients on Friday.
"Our checks also suggest that Apple is working with suppliers on a foldable phone (that potentially could double up as a tablet) for launch in 2020," Mohan said, while reiterating the bank's buy rating for Apple shares. Mohan's report suggests that Bank of America Merrill Lynch is happy with the company's product plans. The report reaffirmed the bank's $220 price target for Apple, representing a 30 percent upside to Thursday's close.
It's unclear whether the foldable smartphone will be the next iteration in the iPhone lineage or it will jumpstart its own category in Apple products. Until then, it's safe to assume iPhone updates will offer just a few incremental changes. "We expect the iPhones this fall to be largely unchanged for the OLED versions although size changes have proved to be a catalyst in the past," Mohan said.
Given that the foldable phone is still in its concept stage, 2020 seems like a tight deadline that will be difficult to meet, even for Apple. Timing is important though, as competitors have already revealed patents and concepts for similar products. Leaked documents from Samsung last November revealed concepts for folding display phones and plans to launch a foldable Galaxy X.
The concept of a foldable phone is still met with consumer skepticism, which means Apple is facing extra hurdles before it can launch the new design. It's first challenge? Convincing people it's not a flip phone.