The Samsung Foldable 'Galaxy X' Phone Is Leaked on Samsung Website
The company is expected to launch the phone soon.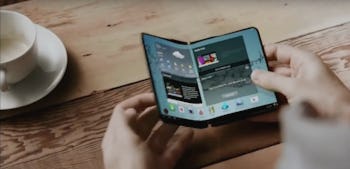 Samsung/YouTube
Samsung may have given its biggest hint yet that a foldable Galaxy smartphone is about to launch. A new support page spotted on Monday covers an as-yet unannounced phone, suggesting the company is weeks away from releasing its new device. If the rumors are true, it could mean consumers can carry around phones with even larger screens than before without taking up more pocket space.
The phone support page, first spotted by Mobile Kopen, is listed on Samsung's website under the number SM-G888N0. In this context, "N0" tends to refer to the South Korean market, suggesting the phone will have a limited launch to start.
Is this the "Project Valley" phone?
A number of hints suggest that this will be the "Galaxy X" phone. Reports emerged last summer that Samsung was working on two bendy-screen devices under the codename "Project Valley," one of which would have a five-inch screen that opens up into an eight-inch display. A report back in January suggested Samsung would launch a foldable phone under the name "Galaxy X" in the first half of 2018. The following month, Samsung trademarked the name with the Korea Intellectual Property Rights Information Service.
5 years in the making
If the phone delivers on the promises of "Project Valley," it could prove an attractive new form factor that offers a tablet-like amount of screen space in a gadget that fits in a regular trouser pocket. Samsung has eyed the launch of a foldable smartphone for some time, releasing a concept video in 2013 of how consumers may use such a phone in real life:
Samsung confirmed in September that it plans to launch a foldable smartphone in the coming year, but offered little more detail.
"As the head of the business, I can say our current goal is next year," Koh Dong-jin, president of mobile business at Samsung Electronics, told reporters. "When we can overcome some problems for sure, we will launch the product."
The following month, patent drawings emerged from the Korean Intellectual Property Office that showed how Samsung's display may fold up in practice:
What's next
All eyes are on Samsung to see if it can change the tried-and-tested slab design of smartphones into something new and exciting.
How often have you looked at your phone today?