Microsoft Surface Andromeda: Dual-Screen Wonder May Use This Qualcomm Chip
Don't give up on ARM-based PCs just yet.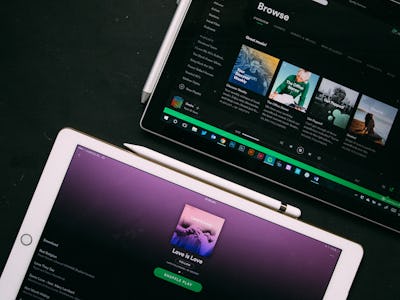 Unsplash / Heidi Sandstrom.
Andromeda, the mysterious dual-screen Microsoft Surface device rumored for launch later this year, may have a Qualcomm processor running the show. A LinkedIn profile from a quality control engineer uncovered this week shows the device may use a Snapdragon 1000 chip to offer Windows 10 in a new form factor, a chip that may also surface in a number of other Microsoft devices.
More details are gradually surfacing around a device that could revolutionize the computing space. Microsoft's Surface line is aimed at showing third-party manufacturers the possibilities available with Windows 10, with products like the Surface Pro demonstrating the power of a tablet, the Surface Studio showing how designers can use Windows in their workspace, and the Surface Book showing how a laptop can convert into a tablet at a moment's notice. "Andromeda," which Thurrott.com claims will launch later this year, is set to kickstart a new era of dual-screen devices in a similar vein to Intel's Tiger Rapids demonstration from earlier this year.
What's interesting about the LinkedIn post is it also suggests the chip could make its way to desktop PCs and the HoloLens augmented reality kit. The current HoloLens, which hit shelves in 2016 aimed at industrial use cases, uses an Intel x86 processor to power its interface. Most PCs also use x86-based chips for daily tasks, with ARM-based processors like the Snapdragon line largely the reserve of the smartphone space thanks to their low power consumption, but Microsoft does offer a version of Windows 10 for ARM devices and the post suggests there could be some new movement in this area over the coming year.
"Andromeda" is shaping up to be a pocketable, low-power device designed for computing on the move. A report earlier this month claimed that existing prototypes can make phone calls and receive text messages, but it won't be positioned as a competitor to the Google Pixel or iPhone. New patent filings also show the device folding to fit into a pocket, or laying out flat to offer double the screen real estate from the semi-folded mode.
The device is set to launch near two other devices. Other devices slated for release include a Surface Pro 6, as well as a low-cost Surface tablet called "Libra."
The launch of Andromeda could end the nine-year wait for a dual-screen Microsoft tablet, after Gizmodo first published images of the "Courier" concept in 2009.