Apple's Curved iPhone Screen: What Reports are Saying
Cupertino is working on something big.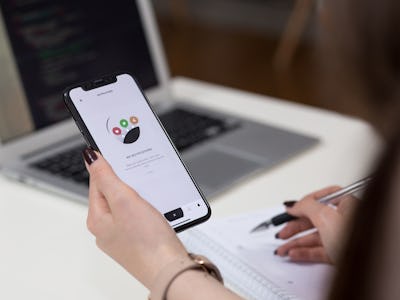 Unsplash / freestocks.org
Apple is working on curved iPhone screens and sensors that could detect gestures without the user touching the screen, according to a report on Wednesday. The company is considering a display that curves from top to bottom, as opposed to Samsung's design that curves the screen at the edges, while also exploring one of the biggest changes to iPhone interaction since the original launched in 2007.
Bloomberg reported Wednesday that Apple's curved display project is around two to three years from market, using the OLED technology introduced to the iPhone line with the X in November 2017 to shape the screen into a non-flat design. The motion-based controls, which are at least two years away — if at all, ever — set to see the light of day, would use a display-based technology to recognize gestures that enable users to move their finger hovering over the screen to complete tasks. Motion-based controls have been both a source of real-world experimentation and science-fiction inspiration, like the computer Tom Cruise uses in 2002's Minority Report:
Motion controls would enable new gestures in a similar fashion to the 3D Touch that debuted on the iPhone 6S in 2015. This feature allows users to hard press on icons to bring up shortcuts, replay Live Photos in the viewer, preview links in Safari and others. It's unclear how gestures would work on the iPhone: Cruise uses them to control a giant screen with his hands from a few feet away, an issue that's less of a concern with a smartphone.
A curved display has been rumored for the iPhone before. A February 2017 rumor suggested the iPhone 8 would use a curved display, which has enabled Samsung to offer a staggering 6.2-inch screen on this year's Galaxy S8+ without feeling too big. It was clarified the following month that the curve wouldn't be as pronounced, instead following the style present since 2014's iPhone 6 to enable the user to roll their finger across the edge.
While neither feature is expected to make this year's iPhones, the company has big plans for its new lineup: a 6.5-inch iPhone X-like device, an updated iPhone X at its current 5.8-inch size, and a cheaper model that continues to use the LCD screens from the iPhone 8.
While Apple is gradually transitioning from OLED, it could have something bigger in store soon, with reports that it's actively investigating MicroLED.