'Pokemon GO' Safari Zone: How to Unlock Perks and Catch a Shiny Roselia
Go outside and start those research tasks.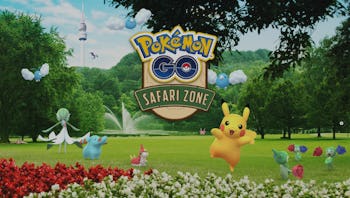 Niantic
Niantic's Pokémon GO Safari Zone event in Dortmund, Germany, is not going as planned. Players in Europe reported multiple issues with the game, but the developer said it's working on it just in time for the Americas to join in on the rare Pokémon-catching action.
Pokémon GO players who are not in Dortmund can get perks for participating in the Safari Zone event that starts Saturday. For trainers in the Americas, they're tasked with completing 5,000,000 Research Tasks from June 30 until July 1. When completed, extra XP from hatching eggs from July 2 to July 9 will be unlocked, but that's just the beginning of the perks.
If players in Europe and Asia also finish their Pokémon GO Safari Zone task, extra XP for catching and raids will also be unlocked along with having Lucky Eggs last for one hour. Once those tasks are done, players across the globe will receive five free Raid Passes for Articuno Day on July 7. Trainers will need to visit a Pokémon Gym and spin the Photo Disc to receive those passes for the three-hour raid.
Another bonus for going outside to play some Pokémon GO on Saturday and Sunday is the increased spawn rates of the Grass and Poison-type Pokémon, Roselia. They're spawning in large numbers during the event and with an increase in spawn rates also comes an increase in a Shiny Roselia. Keep an eye out for a slightly different color version of the Pokémon and use the best Pokéballs to catch it.
Professor Willow's Global Challenge is part of Niantic's Pokémon GO Summer Tour 2018 that has events in different parts of the world, but lets players partake in the festivities from their own neck of the woods. Pokémon GO Safari Zone is one of the stops before the big Pokémon Go Fest 2018 in Chicago takes place on July 14 and 15, followed by Pokémon GO Safari Zone in Yokosuka, Japan, later this summer.
For Pokémon GO trainers to get the most out of unlocked bonuses of the event, they will need to make use of the new trading and friendship features added to the game earlier in June.