Thanos Creator Responds to 'Avengers 4' Character Rumors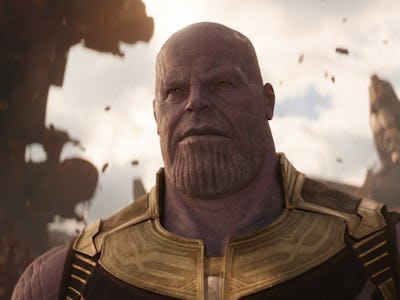 Marvel Entertainment
Like Thanos wielding the Infinity Gauntlet, Thanos creator Jim Starlin is using the awesome might of social media to clear up some things about 2019's Avengers 4. Following comments he made at a comic convention in Puerto Rico, Starlin has clarified that he does not have more characters set to appear in Avengers 4.
On Monday, Starlin posted on his Facebook page a statement of clarification over a passing joke he made about the amount of characters he's created that are set to appear in future Marvel movies. "Okay, this has gone on long enough," Starlin begins, which means you know it's about to get real.
He continues:
"Last month at a con in Puerto Rico it came up in the Q&A that I received two credits in the Avengers The Infinity War. I then kidded that I was going to shoot for three in the next movie. I never said another of my characters is going to be appearing in it as has been widely reported since then. That was a mistake on the original reporters part."
So that's that. When it comes to to Marvel's current Infinity War saga, Jim Starlin is perhaps the most influential creator, given the fact he created Thanos and wrote 1991's The Infinity Gauntlet and 1992's The Infinity War, a direct inspiration for Marvel's Avengers: Infinity War which raked in over two billion dollars at the worldwide box office.
So it stands to reason Starlin's words would carry more weight than anyone else's (Kevin Feige and the Russo Brothers aside), even if he was just joking.
Avenger: Infinity War is now in theaters. Avengers 4 will be released on May 5, 2019.