Thanos Comics Creator Has Given His Review of 'Avengers: Infinity War'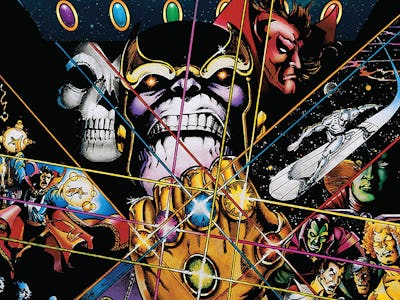 Marvel Entertainment
Everyone and their mother will have an opinion on Avengers: Infinity War. But there's one person in particular whose thoughts will weigh heavier than most: Jim Starlin, the creator of Thanos, who introduced the Mad Titan in 1973 and later wrote The Infinity Gauntlet in 1991, the six-issue series serving as the the primary inspiration for the biggest Marvel movie of all time.
So what did Starlin think of Joe and Anthony Russo's directorial efforts to bring Thanos's quest to the big screen? On his Facebook page, Starlin praised the Russos for their work, as well as giving props to Oscar-nominated actor Josh Brolin (for 2008's Milk) for "moving and emoting" Thanos as Starlin himself tried to do in the comics. In short, Infinity War has Starlin's seal of approval.
On Monday, Starlin attended the premiere of Avengers: Infinity War in Los Angeles. Despite Starlin's frequent falling outs with Marvel, Starlin has no ill will towards the brand. And though Starlin recently lamented to Syfy in an interview how the film studios keep a barrier from the comic book talent, Starlin was still invited to the set, as well as to attend the film's premiere.
Early Tuesday afternoon on his Facebook page, Starlin offered his spoiler-free two cents on the film. In so few words, he loved it.
"Visually spectacular, as are all the Marvel movies," Starlin writes. "But this film hits emotional depths few of the others have even come close to, yet humor takes center stage at all the rights moments. There are a couple times my chest constricted from what I was seeing, making me want to cry. You'll recognize those instances when you watch the film."
Starlin also gave Brolin kudos for his portrayal of Thanos. "Brolin is an incredible Thanos, moving and emoting just as I tried to portray him in the comics," he says. He also added that the film's two and a half hour running time "shoots past nearly unnoticed."
In his conclusion, Starlin acknowledges he has bias because it's basically his material put to screen, "but the Russos, Markus, McFeely and everyone else involved in this film get my heartfelt thanks for bringping [sic] everyone's favorite Titan to life in the best way possible, in a jaw-droppingly awesome fashion. Ten out of ten thumbs up."
You can read Starlin's Facebook post in its entirety here.
Avengers: Infinity War will hit theaters on April 27.