How 'Contest of Champions' Has Been Setting Up 'Infinity War' For Years
Two characters from 'Infinity War' join Marvel's mobile app in an exclusive reveal.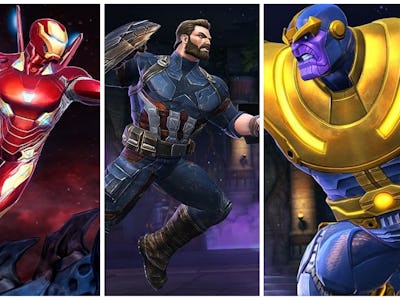 Kabam
For three and a half years, the Vancouver-based studio Kabam has been setting up its own Infinity War in the popular mobile game Marvel: Contest of Champions. Now, timed with the release of Avengers: Infinity War on Friday, Kabam is kicking off a two-month event themed after the all-important film in the Marvel franchise by adding two new playable heroes modeled directly after the movie. And Inverse has the exclusive reveal.
Back in April, Kabam added Thanos minions Corvus Glaive and Proxima Midnight, based on their designs from Avengers: Infinity War, to the game's humongous roster of 115 playable characters. This May, Kabam will add a new Iron Man, in his sleek new Mk. 50 armor, and a new Captain America, with his vambrace shields courtesy of Wakanda. The characters are officially titled, "Iron Man (Infinity War)" and "Captain America (Infinity War)."
Kabam is also updating Thanos to wield the Infinity Gauntlet as an excruciatingly difficult final boss. Like the movie, Thanos and the Infinity Stones is the culmination to a story told by Kabam going back to the beginning of the game. "The Mad Titan has been an integral part of our storyline since 2014," says creative director Gabriel Frizzera over email. "[He's been] quietly working in the background collecting his Infinity Stones. Now his gauntlet is complete, and he intends to reshape the universe with its power."
Frizzera said it took a while for Kabam to create this new Thanos whom players will have the opportunity to fight one-on-one. "We worked for months creating a new version of the character as a final boss for the Infinity War event. He uses the power of the stones against you, in an epic boss fight," Frizzera says. "It won't be for the faint of heart, I tell you."
Currently ranked #11 as of this writing on the Apple App Store for "Top Adventure Games," Contest of Champions has been one of Marvel's most popular mobile games since it launched in 2014. The game is centered on one-on-one combat, as players tap and swipe to dish out attacks and special moves.
A vast array of Marvel characters are available to play, whose differing costumes and alternate versions mishmash canon at will. Everyone is based on something in Marvel lore, be it iconic comic book storylines or films and TV; Charlie Cox's Daredevil from the Netflix series is a playable character, as are Vulture, Killmonger, Hela, and "Gladiator" Hulk and Thor from movies like Spider-Man: Homecoming, Black Panther, and Thor: Ragnarok.
The Infinity War event will add even more MCU characters with the arrival of Captain America and Iron Man based specifically on Chris Evans and Robert Downey, Jr.'s appearances in the nineteenth Marvel Studios movie. "Marvel gives us a lot of early access to the movie materials, specifically on the visual side," explains Frizzera. Characters take "about 10 weeks" to be fully-included in the game, and "That requires a lot of coordination between our team and Marvel, so they can be released in time for the movie."
But that doesn't mean you should bug Kabam for spoilers. Aside from the fact even Kabam hasn't seen the entire movie — "They're very strict with spoilers," Frizzera says — Kabam is still doing its own thing. "We try to follow our own storyline, so even if the game event is inspired by the movie, nobody will get their movie-going experience spoiled by playing our game."
Still, Kabam aims to translate what fans see in the movie to feel right on their fingertips — literally. "If we do our jobs right, it will feel like you're playing the same character."
Avengers: Infinity War will be released on April 27.