'Fortnite' Infinity Gauntlet: Why Thanos and Marvel Skins Are Unlikely
Epic Games apparently doesn't like money.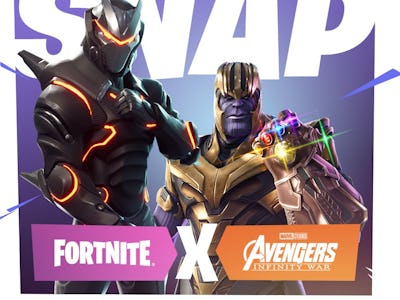 Twitter
Big Fortnite news came out on Monday when Epic Games announced the "Infinity Gauntlet Limited Time Mashup" coming on May 8. Only a few details were made available about the mode, but some players wondered if there would be a new selection of outfits featuring the Avengers available for purchase. Unfortunately for them, that will not be the case.
On the *Fortnite: Battle Royale" subreddit Monday, a representative from Epic Games cleared up the rumors about Avengers outfits coming to the game. The representative said there are currently no plans for the Marvel superhero outfits coming to the in-game store. Fortnite players will have to carry on with their Raven, Tomatohead, and other skins coming out in Season 4.
"rq just because I've seen lots of folks asking, we have no plans for Avengers outfits in the store," the representative posted.
The new "Infinity Gauntlet Limited Time Mashup" mode will work like a regular Fortnite: Battle Royale match, but somewhere on the island is a hidden Infinity Gauntlet. Once a player acquires the gauntlet, they will transform into Thanos and have the power of the Infinity Stones at their disposal. Could this mean players with the gauntlet can eradicate half the players on the island with a snap of their fingers?
Players will find out how it feels to have god-like powers on May 8 when the "Infinity Gauntlet Limited Time Mashup" is added to Fortnite. As stated in its name, the mode is available for a limited time similar to the 50 v 50 mode, which can be as short as one week.
Fortnite is not the first game to incorporate Avengers: Infinity War into the game. God of War had an Infinity Gauntlet-like item players can find in order to let Kratos unleash a magical blast similar to Thanos.