'Black Panther' Star Letitia Wright Advances Mae Jemison's STEM Dream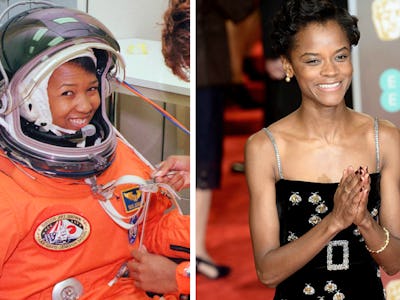 IMDB/Wikimedia Commons
In the Marvel Universe, the smartest person is the teen engineer and Wakandan princess, Shuri. In real life, the actor who plays Shuri, Letitia Wright, puts the spotlight on real female engineers who are creating our future, today. On Monday, Wright's Instagram post revealed her latest project: a video profile of young female STEM students.
Each of the young women Wright speaks with is a part of the Shell Eco-Marathon, a worldwide energy efficiency competition sponsored by Shell. The aim of the competition is to make a car that's as fuel efficient as possible — something that female STEM students believe is definitely possible.
"All your limited to in engineering is your imagination," a Colchester Institute student named Hannah told Wright. "If you think it, you can draw it. You can design it. And if you can draw and design it, you can make it."
Though there's been a recent push to focus on female STEM students, NASA astronaut Mae Jemison has been supporting women in STEM fields for years. As Jemison points out in episode 13 of I Need My Space, women have worked in STEM for decades and fueled humankind's ability to travel to space.
"We've always damn been here," Jemsion says in a conversation about the women who inspired Hidden Figures. To think that that's not true — or to think the female engineers in Hidden Figures were the only women working in the space program, Jemison says, "is a problem."
While Wright's profile of the female STEM students indicates that female scientists, mathematicians, and engineers are finally getting some well-earned visibility, the scales of equality are still far from even. According to the United States Department of Commerce, women filled only 24 percent of STEM jobs and made up only 25 percent of college-educated STEM workers in 2015. Furthermore, women with STEM degrees are less likely than their male counterparts to work in a STEM occupation.
That is likely linked to the hostile environment many women experience when they work in STEM fields. According to a Pew Research Center report published in January, 50 percent of women working in STEM have experienced gender discrimination, 36 percent have experienced sexual harassment in the workplace, and 20 percent believe their gender has made it harder to succeed in a STEM job.
When Wright says that the women she met are "real-life heroes," she's not just using a figure of speech. The actress sees the involvement of women in STEM as a "movement because I believe it's very powerful." When you're punching through glass ceilings, you have to be a hero.
If you'd like to hear more of Mae Jemison's thoughts on space and feminism, check out episode 13 of I Need My Space.