Why Black Panther's Sister in 'Infinity War' is a Big Deal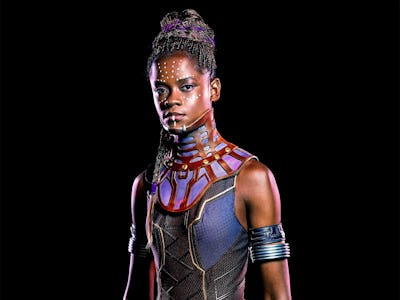 Entertainment Weekly
The Marvel Cinematic Universe will have its biggest on-screen gathering yet in Avengers: Infinity War, but the party is only getting bigger. In a tweet from actress Letitia Wright, she'll be reprising her role as Shuri, from Black Panther, in Avengers: Infinity War. Here's what it means.
Although Shuri hasn't been around in comics for as long as her older brother T'Challa, Shuri has made a huge impact in the Marvel Universe, and her presence in Infinity War can be a game-changer for the MCU.
Besides T'Challa (Chadwick Boseman), Shuri is a significant character from th world of Black Panther. In the comics, Shuri has not only been a Black Panther herself but the ruler of Wakanda, when her brother T'Challa was rendered powerless during Reginald Hudlin's 2005 run on Black Panther. Several years later, Shuri still ruled Wakanda and led her people to war against Atlantis during the crossover event Avengers vs. X-Men.
In the MCU, Shuri has yet to appear; 2018's Black Panther will be her film debut. In an interview with Black Girl Nerds, Wright described Shuri as being close to a genius-level engineer who spearheads Wakanda's advancements in technology. "She's just someone who's very innovative, very open-minded, and wants to help push her country Wakanda forward by using technology," Wright said, "by working with vibranium in a way that can be able to protect them, and create weaponry – and also just to create devices that have never been seen before. So she plays a really dope, amazing role in the film."
Wright added: "Shuri's place of leadership right now is in terms of technology, creating things that can be able to help her brother when he goes out onto his missions and helping to protect the border of her country. So that's a great place to be a leader – to train, and know what you're doing. I love that that's the place that Shuri's at."
Based on Wright's descriptions and Shuri's comic book history, Shuri could be mega influential in the fight against Thanos (Josh Brolin); without Shuri, the Avengers may not know how to weaponize Wakanda's most valuable resource. Also, since Shuri was a Black Panther herself, could she be primed to take over if her brother suffers a gruesome fate?
Marvel's Black Panther* will hit theaters on February 16.
Avengers: Infinity War will follow on May 4, 2018.