Cards Against Humanity Offers $500,000 Scholarship to Women in STEM
The "despicable" and "awkward" board game uses its powers for good.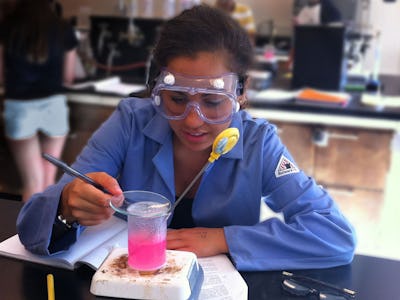 https://www.flickr.com/photos/intelfreepress/
Cards Against Humanity, a company that's made easy money off of the immorality of this nation's youth and used the spoils to buy, among other things, an island in rural Maine, is using its influence for good.
In March, the company announced the Cards Against Humanity Science Ambassador Scholarship, a full-ride, four-year scholarship for women that would be funded by sales of its science-themed expansion pack. It has now successfully raised over $500,000 and is calling on undergraduates identifying as women in STEM fields to apply for the 2016-2017 academic year. Interested applicants will have to upload a three-minute video of themselves clearly explaining a scientific topic they're passionate about before December 1. The videos will be judged by an advisory board of 60 prominent women scientists, and finalists will be chosen early next year.
The company's seemingly sudden interest in science may seem arbitrary, but according to CAH Community Manager Jenn Bane, the Science Pack had been in the works for some time. Co-founder Josh Dillon, after all, is an astrophysicist at UC Berkeley.The company knew they wanted the profits from the science pack to go toward a science-related nonprofit, says Bane. The idea to create a scholarship for women was a brilliant, random idea that stuck.
"A few of the creators of Cards Against Humanity work in science and have witnessed this problem first-hand," Bane told Inverse. "We desperately need diversity in science. Everyone deserves a seat at the table."
Zach Weinersmith, who co-authored the Science Pack, has written a children's book about smart and scientific girls and has expressed his concern in a press release that the lack of women in STEM fields is holding advancement back.
While Cards Against Humanity may have a reputation for disturbing shit for shit's sake, it actually has a history of dabbling in philanthropy. Through other "charitable" expansion packs, it has raised nearly $2 million for the nonprofits such as the Wikimedia Foundation, the Sunlight Foundation, and DonorsChoose.org.