'Fortnite' Pro Ninja Wins $1 Million Prize for Charity at Pro-Am Tournament
Like there was any doubt.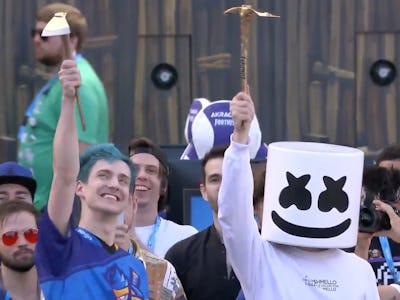 YouTube
In a first of its kind, Epic Games put on the Fortnite pro-am competition, and as many expected, pro player Tyler "Ninja" Blevins won the event along with $1 million for charity.
Tuesday's Fortnitepro-am competition took place in front of a live audience in the Banc of California Stadium in Los Angeles with more than 600k watching on Twitch. It was a long final match, but the team of Ninja and Christopher Comstock - known best as his DJ persona Marshmello who wore his signature helmet the entire time - won the $1 million prize for charity and the Gold PickAxe. Second place was last minute replacement Jack "Courage" Dunlop and his teammate, Kenneth Faried of the Denver Nuggets.
Participating in the event was a mix or pro gamers, YouTube/Twitch celebrities, actors, professional athletes, music artists and other notable personalities. The 100 competitors played three matches. The event consisted of a solo competition for practice, a duos practice match, and ending it with the final duos match for the big prize. All the action was seen on a new Overview mode, which is made specifically for Fortnite: Battle Royale competition as it lets commentators view the entire map and see where all the players are located.
In the final match, both Ninja, Courage, and third place Kirsten "KittyPlays" Michaela built a huge structure then proceeded to chase one another down. Courage took down KittyPlays, but had only seven health and few weapons left making it easy picking for Ninja to eliminate him to win the event. He tweeted his $500,000 will go to the Alzheimer's Association.
With $3 million up for grabs, the Fortnite pro-am was unprecedented and showed how popular the game is. Announced during the event were a few details about the Fortnite $100 million esports event, which is now officially called the Fortnite Cup, and will consist of events open to anyone with big prizes for winners.
The Fortnite pro-am event happened on the first official day of E3 2018, which already saw press conferences from Nintendo, Sony, Microsoft, Ubisoft, Bethesda, Square Enix, and EA.