Assassin's Creed Is Bringing Us to Ancient Greece Later This Year
Here's exactly when 'Odyssey' comes out.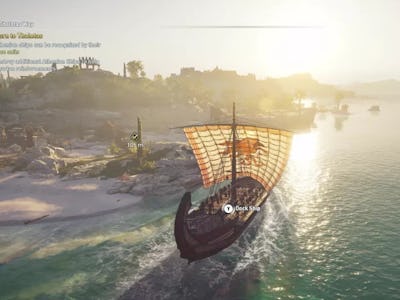 Ubisoft/Gematsu
The new Assassin's Creed game isn't exactly a secret. After a leaked keychain spoiled the surprise, Ubisoft officially confirmed the new game and its ancient Greece setting ahead of E3 2018. There've been a few more leaks since then, but wow we're finally getting an official, detailed look at Assassin's Creed Odyssey.
Here's everything you need to know about the new game, which is set to hit stores on October 5, 2018.
The trailer also introduced us to new characters, including two protagonists Alexios or Kassandra (one male and one female). Either way, you play as a simple Spartan mercenary who takes on a legendary quest. You'll get a special weapon called the Spear of Leonidas, which appears to be imbued with mystic powers. Of course, this being an Assassin's Creed game, you'll also run into historic characters like Socrates.
During a deeper gameplay demo we saw how the new game will actually play. The video shows Kassandra traveling to ancient Mykonos by ship to assassinate an enemy and reap the bounty on his head. After a quick debrief, she jumps on a horse and uses some fire-sword magic to take out her enemy. We also a cool new Spartan kick mechanic to help unleash your inner King Leonidas.
Soon afterwards, you join up with a group of Spartans to take on the enemy Athenians in a massive battle. The battle scene looks pretty stunning, and Kassandra makes quick work of her enemies until a giant Athenian attacks. After that it's a bit more of a battle.
Oh, and there's also a minotaur. So get excited for that boss battle.
Check out even more of our E3 2018 coverage, including updates on the Fallout 76 beta, Microsoft's latest plans for the Halo series, and Battlefield 5's new Battle Royale mode.