iPhone X Plus Screen Size: Specs and Renderings Drop in Sketchy Leak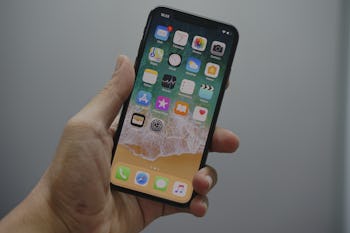 Unsplash / Bagus Hernawan
As Apple's Worldwide Developer's Conference approaches, rumors of a new iPhone SE continue to circulate, but now there are leaks of what's potentially coming next for the flagship iPhones.
On Friday, AppleInsider reported the leaked designs for this year's new iPhone and its larger variant. The images, originally from Russian site Wylsa, show the rumored three iPhones that all share the similar design of the current iPhone X. A 5.8-inch phone will be the standard and the 6.5-inch version is dubbed the "iPhone X Plus." Then there's a 6.1-inch iPhone, which is expected to be the more affordable option as it will have an LCD screen rather than the expensive and better-looking OLED screen along with a single camera on the back instead of dual cameras.
A lower priced version of its flagship phone hasn't been done by Apple in years. Back with the iPhone 5, Apple made the cheaper iPhone 5C, but that didn't do well with its customer base. The company did produce the iPhone SE, a smaller lower-priced phone, but it was made for emerging markets in mind such as China and India.
This particular rumor, however, is one to be skeptical about considering the source. While these leaks do start popping up in the months prior to an Apple event or conference, it has become easier to fake design schematics.
Apple enthusiasts will have to wait until the next big iPhone event, likely in September, to see what the phone maker will have in store for those itching to upgrade their phone.
On Monday, WWDC 2018 will start and there are a few announcements expected from Apple CEO Tim Cook. The new iPhone SE is the most anticipated rumored announcement, but there's also talks about the release of iOS 12 and the company's plans to go further into augmented reality.