Richard Branson Is So Competitive He's Launching Himself Into Space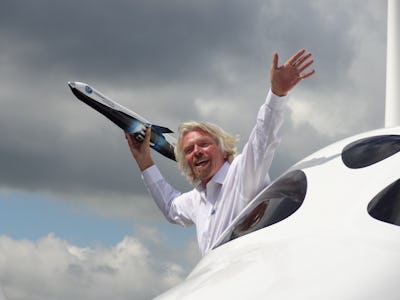 Flickr / Hardo
When it comes to space exploration, Virgin Galactic founder Richard Branson isn't bashful about his ongoing competition with SpaceX CEO Elon Musk and Blue Origin founder Jeff Bezos. As this trifecta of billionaires races towards accessible space innovation, Branson announced a new plan to set himself apart from his peers: launching himself into space.
Ahead of his upcoming appearance on BBC Radio 4's You And Yours, Branson revealed his plans to boldly go where no billionaire has gone before. The business magnate claims he's training to become an astronaut, with all the rigorous tutelage and taxing physical training that goes with it. Bezos and Musk aren't getting in the driver's seat of their spacecraft, meaning Branson is setting a new precedent for how involved a CEO can be in testing a product.
"I'm going for astronaut training, I'm going for fitness training, centrifuge, and other training so that my body will hopefully cope well when I go to space," Branson says in the interview that will air on Monday. If all goes according to plan, he'll be launched into space within a matter of months.
That being said, Branson has had a hard time keeping deadlines. When he founded Virgin Galactic as a commercial space travel company, his initial goal was to see a crewed maiden flight by 2009. Branson stopped self-imposing deadlines after the company's SpaceShipTwo crashed in October 2014, resulting in the death of one of the aircraft's two copilots. Since then, Branson has appeared more hesitant to rush the process, but last year announced plans for a crewed Virgin Galactic spaceflight slated for 2018.
While discussing Bezos and his work with Blue Origin, Branson responded, "I think we're both neck and neck as to who will put people into space first." Ultimately we have to do it safely. It's more a race with ourselves to make sure we have the craft that is safe to put people up there."
While prioritizing safety, Branson's competition with Bezos and Musk remains obvious from his frequent comparisons. Not everyone sees the three billionaires as equals, however. Musk has been known to throw a few jabs and even went as far as saying he's in a "different league" from Branson, belittling Virgin Galactic's mission as seeking just a "joyride."
Branson's bold promise to enter space heats up the competition and creates yet another way in which these celebrity innovators can race each other. After all, Musk is known for launching wild projects over petty arguments with billionaires, so it's only a matter of time before these tech giants take their banter elsewhere in Earth's orbit.