'The Handmaid's Tale' Meets 'Sex and the City' in Brutal 'SNL' Mash-Up
Amy Schumer was such a Miranda.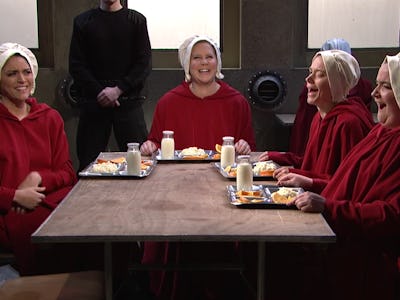 YouTube
Amy Schumer hosted the latest episode of Saturday Night Live, and since the show started before and then ended on Mother's Day, there was a maternal theme throughout. It was one particular skit, however, that combined two shows and a few current events to become the segment people are talking about.
Titled "New Hulu Show," the skit is a clip from a spinoff show of The Handmaid's Tale called "Handmaids in the City." SNL cast members Aidy Bryant, Cecily Strong, Kate McKinnon, and Schumer portray the characters from the Hulu show, but instead of talking quietly to each other and trying not to draw attention to themselves in fears of physical punishment, they instead sit around the table and talk about their love lives like the ladies of Sex and the City.
The four dish at the table about how "glamorous" their lives are in Gilead from how they're controlled by commanding officers to their forced pregnancies, but they have a laugh after every joke. Throughout the skit, a narrator refers to critical acclaim for the show stating how the dystopian show was a better alternative to the news on TV.
The Handmaid's Tale Season 2 recently premiered in April. The new season picks up right after the first with Offred (Elizabeth Moss) being taken in an unmarked van after the tense events of the season finale. Based on the 1985 book of the same title by Margaret Atwood, the first season of the show won dozens of awards including big wins at the Golden Globes and Primetime Emmys.
The next episode of SNL will be its finale for Season 43. Hosting the show will be alum Tina Fey with Nicki Minaj as musical guest.
Hulu is releasing new episodes of The Handmaid's Tale Season 2 every Wednesday, and in just four episodes into the new season, it's already been a shocking ride.