'The Handmaid's Tale' Season 2 Is Brilliant Intellectual Masochism
It's one of the best shows on TV. Which is why it's so hard to watch.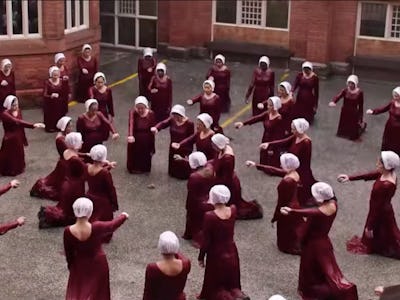 Hulu
If you're excited about the return of The Handmaid's Tale for its second season, you should be. But be warned, part of the reason the show is so damn good also makes it punishing to watch.
The Emmy Award-winning show returns to Hulu on April 25, and buzz has already reached a fever pitch. While fans of the dystopian series are by now aware that the show has expanded well beyond the scope of Margaret Atwood's original plotline — exploring character backstories and introducing more development for the story's antagonists — viewers should still brace themselves for a merciless, albeit brilliant, second season.
Mild spoilers for the first episode of Season 2 of A Handmaid's Tale.
The titular season premiere "June," the birth name of Elisabeth Moss's character Offred, kicks off right where it left off. Offred, as June Osborne is so-called in the Republic of Gilead, is seen mid-abduction in the back of an official unmarked van. She's being transported to an unknown location, ostensibly at the order of Aunt Lydia (Ann Dowd), after she and her fellow Handmaids refuse to stone to death one of their own. As Offred and her cohorts will soon find out, they are being taken to a long-abandoned Fenway Park to meet the gallows (as was teased in the series' Season 2 trailer).
What ensues — and it is indeed wise for viewers to assume Offred and company would not meet death so easily — is a series of psychological and physical tortures of the Handmaids, each of whom wears the trauma of her repeated abuse with some measure of pained reserve so as not to invite further injury. One cannot help but be floored by the powerful performances of both its female leads and their antagonists. Dowd — who puts on a shocking display of cruelty — is given significant screen time in the first episode, though her true motivations (staying alive, or by contrast, somehow protecting the Handmaids) remain unclear.
Offred herself is spared from her atonement only because it is learned by Aunt Lydia that she is with child, though she is not without potential threat. One particularly stomach-wrenching scene revealed the kind of violence that befalls pregnant Handmaids who refuse to comply with orders, as one woman seemingly very near to her delivery is shown shackled and confined to a room in unimaginable conditions. And surely exactly as the show's writers intended, viewers will wonder what extreme circumstances might push a person to commit such unfathomable acts of cruelty against another human being. In this case, those appear to be a totalitarian government promising slow and certain death in the Colonies for any who should choose to revolt.
As with Season 1, the show allows its viewers small moments of catharsis in fleeting acts of self-governance or revenge. Fans will find this in Offred's eventual escape, even as she finds it is to yet another prison. They will also find it in the kindness she's shown by strangers who repeatedly endanger themselves to protect her. We are shown that even in the face of unbounded evil, there is an inherent human goodness that remains very much alive in the series' unsung heroes.
Make no mistake: A Handmaid's Tale is a punishing watch. But fans of the show, and indeed perhaps its critics, will have a difficult time doubting its excellence.
A Handmaid's Tale returns to Hulu with two new episodes on April 25.