Every iOS App Must Support the iPhone X Notch by July, Apple Says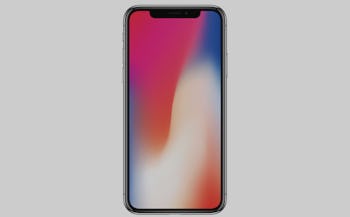 Apple
When the iPhone X came out last year, there was an issue with the notch, the top part of the phone screen where the front camera and sensor used for Face ID is located. The unique design of the notch made it a little difficult for app makers to make full use of the screen, but that will change very soon.
In an update on its developer website, Apple announced that all iOS apps must use the iOS 11 SDK and support the Super Retina display of the iPhone X starting in July. This announcement specifically includes app updates, which means any iOS developer must design their apps to include the notch rather than creating a black bar on the top of the screen to make it appear like a bezel.
Starting July 2018, all iOS app updates submitted to the App Store must be built with the iOS 11 SDK and must support the Super Retina display of iPhone X," Apple said in the update.
Earlier in the year, Apple required developers who submitted new apps to incorporate the notch into their design starting in April. That announcement, however, was only for brand new apps, while this update is for any app in the App Store, which now has more than two million apps available. If a developer wants to update their app, they'll need to get with the times or else.
The requirement for developers to incorporate the iPhone X notch will start in July. How this will affect developers will remain to be seen.
For Apple, the iPhone X notch has caused some dismay for customers. Last November, one developer took advantage of the situation and developed an app to remove the notch. The design choice has also been the butt of a joke by Apple's biggest competitor, Samsung.