Elon Musk Shares Stunning Photo of SpaceX Falcon 9 Block 5 Before Launch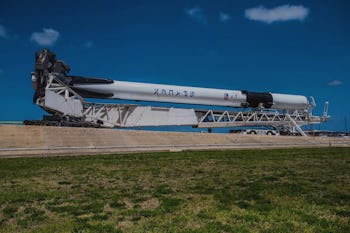 Elon Musk
SpaceX's Falcon 9 has come a long way since the September 2016 launch failure that caused it to explode. The booster blasted through the atmosphere a total of 18 times in 2017, more than any other launch system in the world. In 2018, Elon Musk's aerospace company is set on dramatically ramping up the number of Falcon 9 launches. Recently, it showed off exactly how it plans on doing so.
Enter SpaceX's Falcon 9 Block 5
On Thursday, Musk posted a picture on Instagram that revealed SpaceX's newest Falcon 9 upgrade, known as Block 5. The image depicts the booster in transit to SpaceX launch facility to conduct its May 4 static fire test of its engines. If all goes well it will launch the Bangabandhu-1 communications satellite for the Bangladesh Telecommunications Regulatory Commission on May 7. This would be the inaugural launch of the rocket with these new improvements, which was postponed from December 2017 due to several delays with its test.
Block 5 will succeed the Block 4 addition, which incrementally upgraded its thrust capability, allowing the rocket to achieve its 18 launches in 2017. The biggest changes in this latest improvement further increased the Falcon 9's engines for more thrust and reinforced its landing legs to make its descents from space even smoother.
Smaller changes also includes a boost in its reusability endurance by adding new heat shields to protect against reentry damage to ensure the rocket can be recovered in one piece. This will work toward SpaceX's goal to fly the Falcon 9 10 times with only inspections between launches, and up to 100 times with refurbishments.
If Block 5's first test run goes off without a hitch, 2018 should be a monumental year for Falcon 9 and SpaceX.