Elon Musk Tweets Are Now a Coloring Book Thanks to This Artist
"He's a superhero in my mind."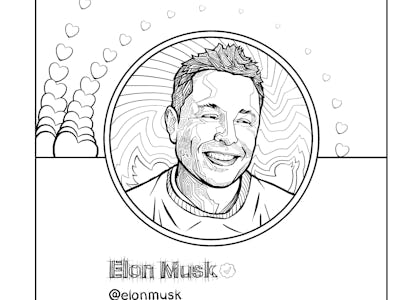 Salina Gomez
Elon Musk has cemented himself as an aerospace mogul, clean-energy pioneer, and a Twitter wildcard. He has bridged the gap between being a tech billionaire and just that person wilding on social media. His tweets have raised eyebrows, caused laughs, and most importantly inspired people from all walks of life to get informed about space travel and sustainable energy.
One of these people was Salina Gomez, a life-long artist and activist who is currently working on completing her coloring book Tweeting Me Softly: Illuminated Tweets of Elon Musk. From his mysterious "cyborg dragon post" to his endlessly odd tweet comparing the Tesla Gigafactor to billions of hamsters, Gomez interprets the cryptic language from some of Musk's most iconic tweets and transforms them into comic book-style illustrations.
"He's a superhero in my mind," Gomez tells Inverse. "Discovering the companies that he has created and the effort he has put into sustainability and space travel pulled me out of a life-long depression. The only way I feel like I could help as an artist and an activist is to create images that are funny and tackle important issues. Turning him into this crazy hero that I see him as in my own mind might help make these topics more digestible and not so serious and dire."
She says this all got started when she found herself researching what Musk was talking about in some of his tweets. This led her to research the differences between the SpaceX Raptor and Merlin rocket engines and got her reading about Tesla's solar roofs. All of this impromptu learning got her thinking that she could turn Musk's social media posts into tidbits of infotainment for other people to enjoy.
Gomez decided to look back through his Twitter profile and begin compiling a list of hundreds of Musk's most memorable and informative Twitter quotes. She has since settled on 50 that she is planning on releasing as several book editions. She has 12 pages complete and is currently working on two others that she illustrates live on her Twitch channel.
Less than a month ago she left her job as a manager of at a Michaels art supplies store to pursue this project full-time. She sees this as an opportunity to fuse her fine arts background, interest in editorial cartoons, and childhood passion for science fiction. But above all else, she wants to contribute to causes she wholeheartedly believes will lead us to a better future.
"[Musk] has ideas that seem abstract to a lot of people but I see them as ideas that have been running as an undercurrent in society for a long time that he's giving a voice to," she says. "I'm not involved in science or technology, so the only way I know how to put my voice into the ideas I believe in is to draw."