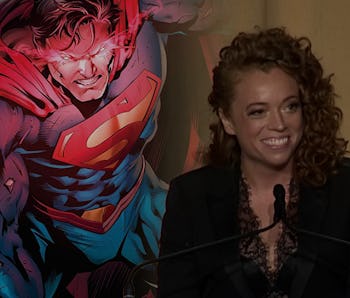 Entertainment
Lois Lane Just Explained the Point of the White House Correspondents Dinner
DC Comics/C-SPAN
Just days after comedian Michelle Wolf killed it at the White House Correspondents' Dinner, she's being followed by Superman. In an unbelievable coincidence of timing, the upcoming issue of Action Comics Special #1, out Wednesday from DC Comics, involves Clark Kent giving a speech at the dinner infamous for using comedy to mask the tense relationship between journalists and the White House. And because it's Superman, he needs the help of Pulitzer-winner Lois Lane to get him through this overwhelming challenge.
On Tuesday, writer Mark Russell, best known for his outstanding The Flintstones and Snagglepuss comics at DC, tweeted a preview of his upcoming Superman story contained in Action Comics Special #1, an anthology one-shot being released to mark the end of series writer Dan Jurgens's tenure. In Russell's story, Clark Kent gives a speech at the annual WHCD. But two weeks prior, Clark is fretting at the kitchen table, where Lois Lane explains to him why it's so important to mock leaders in power. "To prove they can," she tells him.
"Only a psychopath is incapable of laughing at themselves! Making fun of them to their faces tells them you think they're stable enough to take it," Lois says.
Clark answers: "I suppose you're right, Lois. What harm could it do?"
If only Superman lived in the real world. At the 2018 White House Correspondents' Dinner, Wolf, a former Late Night writer who emceed the event, punched up at President Donald Trump and Republicans (for obvious reasons), and at Democrats, whom she mocked for being ineffective. Her monologue ran the gamut of gender and sexual politics, referencing #MeToo and virtually everything that's been a headline the past two years.
"I can't get to everything," began one of Wolf's jokes. "I know there's a lot of people that want me to talk about Russia and Putin and collusion, but I'm not going to do that because there's also a lot of liberal media here and I've never really wanted to know what any of you look like whether you orgasm."
Unfortunately, no one in attendance seemed to have any humor, with critics calling out Wolf for being "cruel" — though really, she was just being honest. One of Wolf's best jokes was criticizing Trump for once again not attending the dinner during his presidency. "I would drag him here myself, but it turns out the president of the United States is the one pussy you're not allowed to grab," Wolf said. "He said it first, yeah he did. You remember? Good."
Russell's Superman story is eerily-timed, as it takes months before publication to write and illustrate a single comic. When a Twitter user asked Russell, "Are… you a prophet?", Russell responded, "The future's pretty obvious when you keep making the same mistakes."
Action Comics Special #1 will be released on shelves and via Comixology on May 2.