'Action Comics' #1000 Is a Historic Superman Comic That Will Make You Cry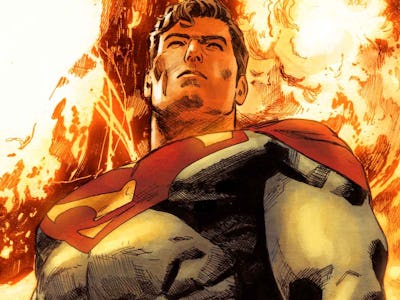 DC Comics
At 80 years young, Superman has never looked better. In the landmark 1,000th issue of DC's Action Comics, available now, a murderer's row of comic book writers have gathered for an anthology that celebrates the Man of Steel's place in popular culture. And if you have a beating heart, it will also make you cry over a fictional character famous for wearing red underwear.
To celebrate Superman's 80th birthday — he first appeared in Action Comics #1 in May 1938 — DC recruited an all-star lineup, including Dan Jurgens, Louise Simonson, Tom King, Brad Meltzer, Marvel expat Brian Michael Bendis, and more, who bring new angles to the Superman mythos. Ever thought about the man whose car Kal-El lifted in his debut cover? Or how fast Clark Kent can turn in a story to the Daily Planet? All these and more are told in a premium release sandwiched by glossy foil, a throwback of the speculator boom of the Eighties and Nineties (which had its final push with Death of Superman in 1992).
But beyond its nice packaging, the comic itself will go down as one of the best Superman stories of all time. Very sentimental, maybe to a fault, Action #1000 is less about celebrating Superman, the Intellectual Property and more about examining why people believe in characters like Superman in the first place.
From the opening, "From the City That Has Everything" by Dan Jurgens, in which Superman is distracted by an invisible danger to realize Metropolis is saying thanks, Action #1000 makes it clear Superman's greatest power is belief. Since his beginnings dating back to the Great Depression, it's been human instinct to deny that someone with the might of gods can be just and decent as they claim to be. But Superman is that good. When a reformed criminal opens up about his encounters with the Man of Steel, it's a reminder that Superman really believes "people can always be better"; it takes power to punch someone, but it requires strength to give them a chance.
This is echoed in my personal favorite, "The Car," by Geoff Johns and Superman director Richard Donner. In true prestige comic fashion, Johns and Donner bring new context to Action Comics #1 by introducing Butch, a reckless alcoholic whose car Superman lifted eight decades ago. Like the criminal in Jurgens's story, Butch is just a guy dealt with bad luck, and it's up to Superman to set him on the right path.
Other stories in Action #1000 touch upon Superman, the man, and they're just as effective. A standout is Tom King's "Of Tomorrow," where in a scorched Earth, Clark still pays his annual visit to Ma and Pa Kent's graves to catch up. And as a journalist, I appreciate Louise Simonson's "Five Minutes," where Clark Kent races to meet a deadline while also saving Metropolis from 1) a runaway train, 2) a fatal shooting, and 3) falling rocket ship debris. I can't do any of those things, but it's comforting that even Clark Kent struggles with deadlines.